Charts
Visme allows you to create the traditional bar and line chart options with the option to create both horizontal and vertical stacked charts.
You can also make these 3D with the click of a button. And, unlike with traditional tools like PowerPoint or Excel, it's much easier to achieve the exact look and feel you're going for by modifying everything from the color scheme and font style to the background color and placement of labels.
1
Click on Charts and Widgets on the left side of the toolbox. Select Charts under Charts & Tables.
2
Insert or import data.
Tip: For detail information on Connect and Import data into Charts, Please visit https://support.visme.co/connect-and-import-data-into-charts/
3
Maximize pop-up window.
4
Change chart type.
5
Apply your own color palettes.
6
Under
Settings
, you'll see different options under the
Style
section of your
Settings
section. For most of the chart types, you'll be able to turn the
grid on or off
and change the
background color
or leave it transparent.
For pie and doughnut charts, you'll see an additional setting which allows you to adjust the angle of your pie chart so that you can position certain segments at a specific degree.
For the line and area graph types, you'll also be able to choose from different line graph types, as seen below, and turn point markers on or off.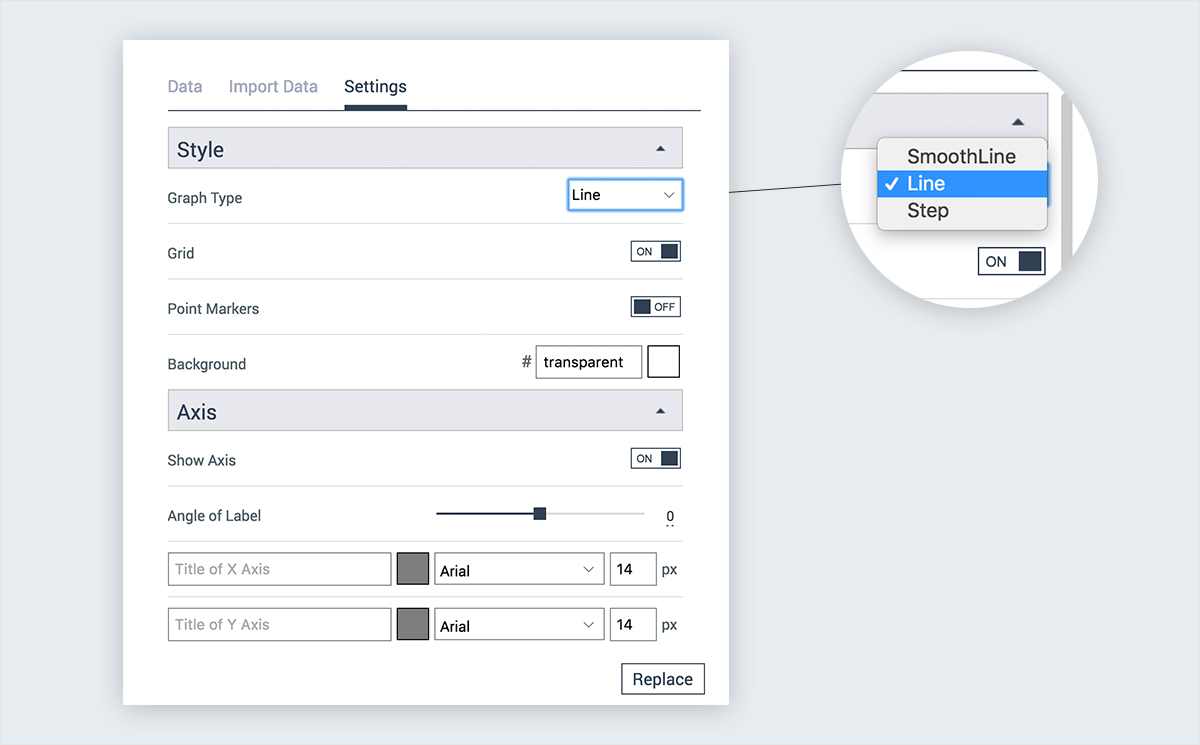 7
Under the
Axis section
of your Settings, you can also choose to
hide your axes
and adjust the
angle of your labels
, which comes in handy when dealing with long category labels.
In this section, you can also name your axes and customize everything, from the color of the text to its font and point size.
One especially useful customization setting is the ability to set specific minimum and maximum y-axis values. This allows you to truncate charts when appropriate, either to make a point or when it is accepted practice within a certain industry.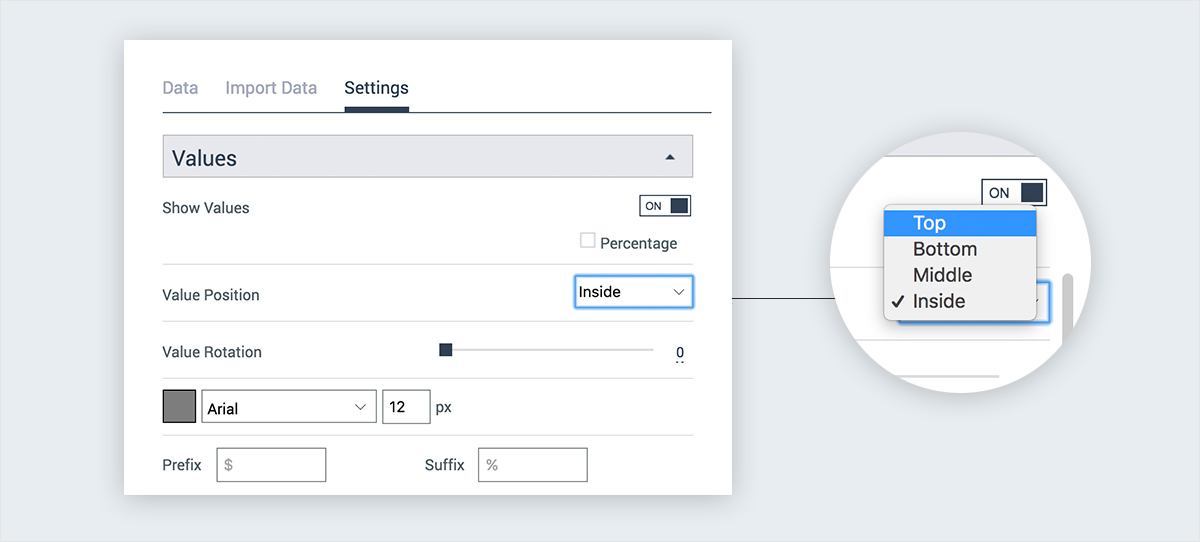 9
If you like your charts and graphs as simple and easy to read as possible. In such cases, you might want to do away with your legend altogether, which you can easily do by deactivating the
Show Legend
option under the Legend section of the Settings tab.
Here, you can also adjust the placement of your legend so it appears either at the bottom, top, right or left of your chart.
As with the other chart elements, you can adjust the font, its size and color, as well as its alignment.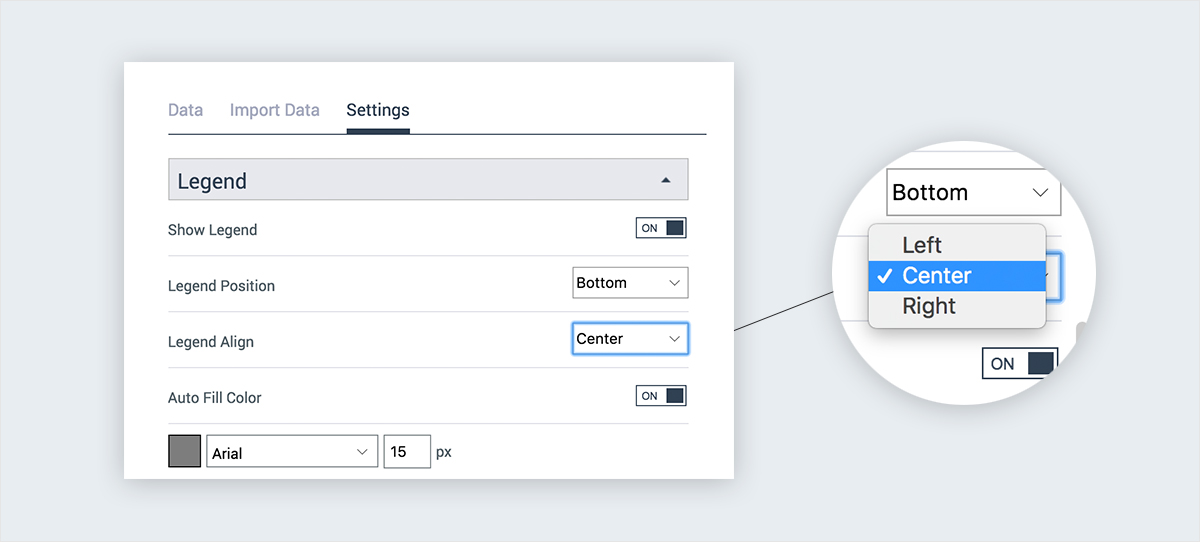 10
If you're looking to create stacked charts like the ones in the introduction to this post, all you have to do is activate the Enable Stack option under the Settings tab.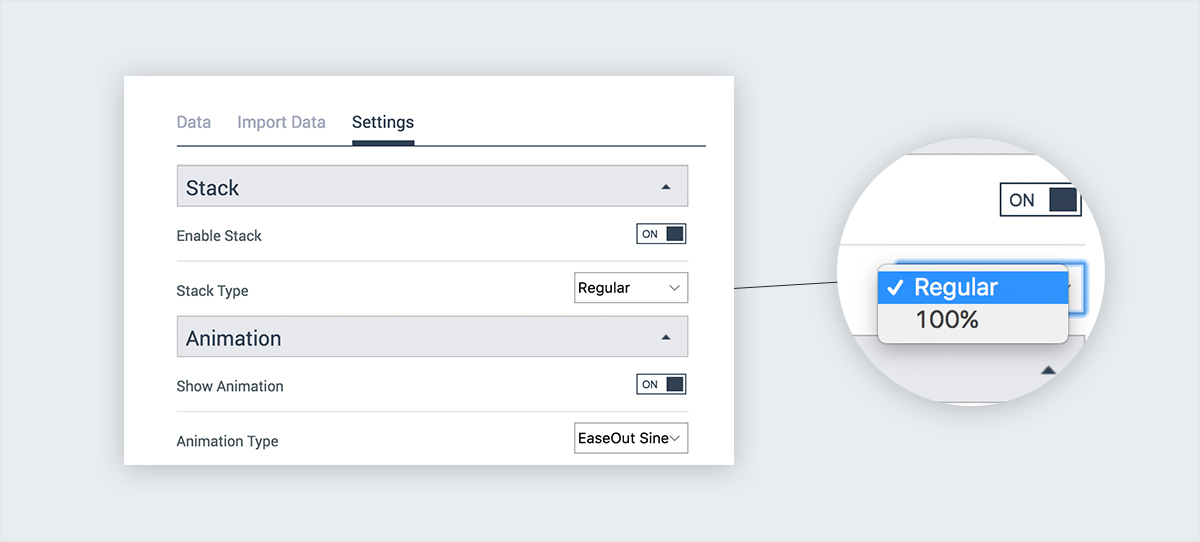 11
You can choose from four different animation effects.
12
Finally, you can insert a
title and subtitle
for your chart under the Titles section and adjust the
font
,
color
and
point size
.
Alternatively, you can also create your own stylized titles and place them wherever you like on your canvas area using Visme's text tool.