Crop marks and bleed
When it comes to printing your professional designed project, using crop marks and bleed is necessary to prevent having unnecessary white spaces. Also, the marks help the printer to know where to trim the paper so you will have the perfect design that is clean, crisp and free of white spaces. You will never know what is going to happen to your design if you don't use marks or bleed because printer can be misaligned.
You can also avoid having white spaces in your design by extending your design to the area in which it will be cut. This is called the bleed area. As the name indicates, it bleeds out of the actual canvas size. In Visme, background color will automatically set to a 5 pixels padding of the canvas and crop marks.
Applying Crop Marks and Bleed
1
Once you are done with your design and ready for print. You first click Download at the top right of the screen.
2
In the Download page, select Document (PDF) for high-quality and professional print for your project.
3
Select ON to show the bleed marks. You then click anywhere in the PDF option to officially download your project.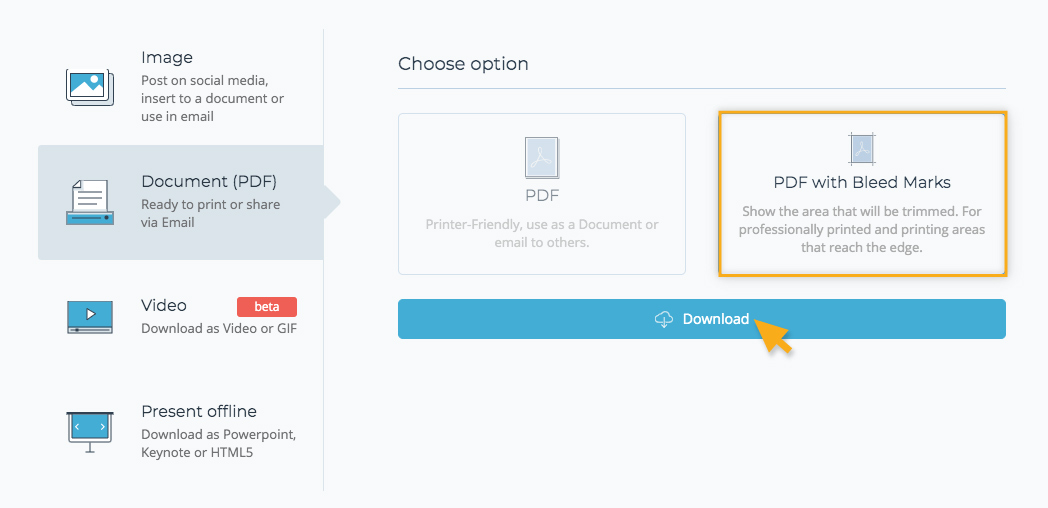 4
When you open your downloaded design, you will see the crop marks that is like hairline rules outside of the defined page size.