Infographic Widgets
Visme offers several infographic widgets that enable users to visualize numerical amounts (percentages, distance, time, space, or using visual comparisons such as units of people, speedometers, timers and digital dials).
You can click on the Data from the left panel and then select from the various infographic widgets. Each widget serves a specific purpose to allow you to transform small pieces of data into more engaging forms of content.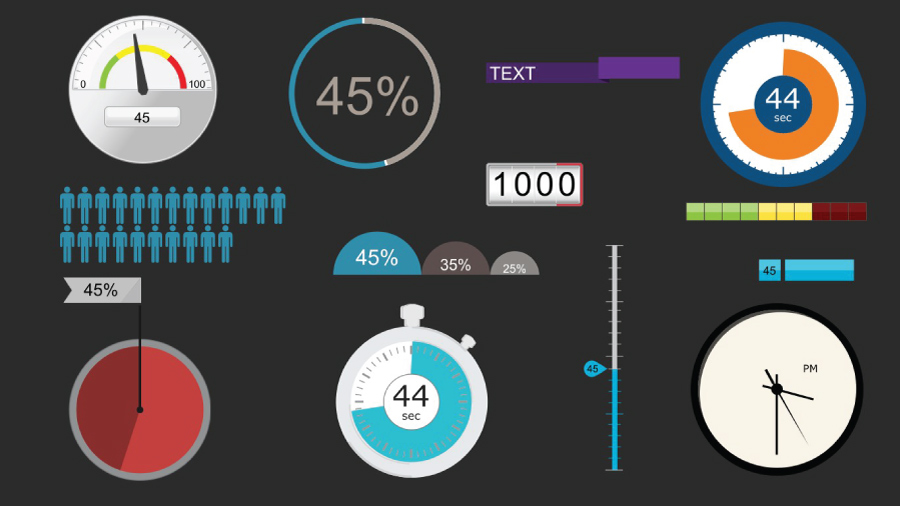 1
For example, lets say we selected Clock.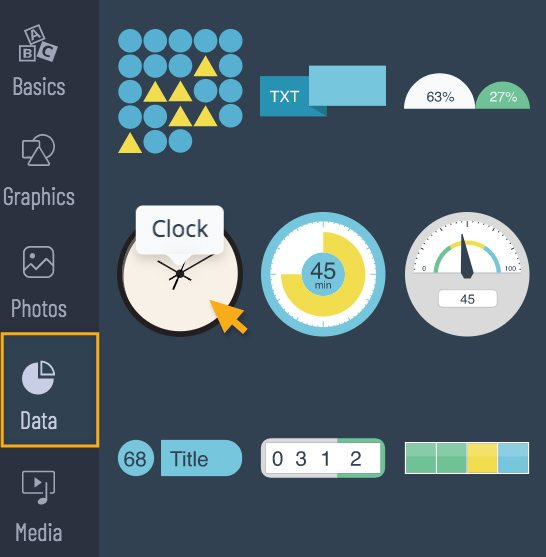 2
This can be used to display different time zones. Select the Clock widget or drag-and-drop it where you wish on your project. You can then further customize it by clicking on the object and modifying the settings on the top left side of the panel.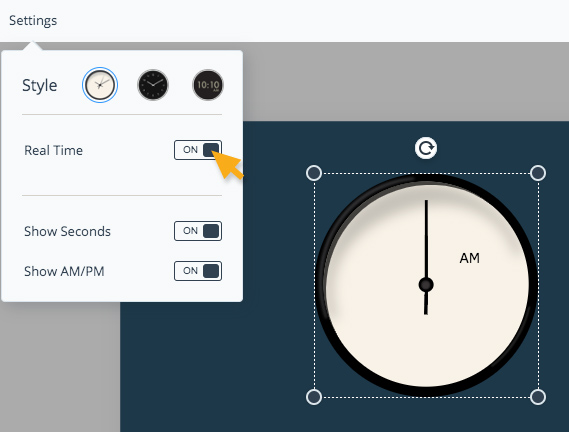 3
For a beginner, you can change the appearance of the clock by choosing from one of three different
styles
:
1.)
A minimalist analog clock with no numbers and lines to indicate seconds and minutes. 
2.)
 A more elaborate analog clock with numbers, minutes and seconds. 
3.)
A digital clock with seconds and minutes.
Also, you can choose to display the actual hour by simply turn on/off Real Time in the Settings. However, if you want to display another time, you can deactivate this option and insert a specific hour, minute and second, as seen above.
In the Settings menu, you can also choose to either show/hide the Seconds Hand and AM or PM.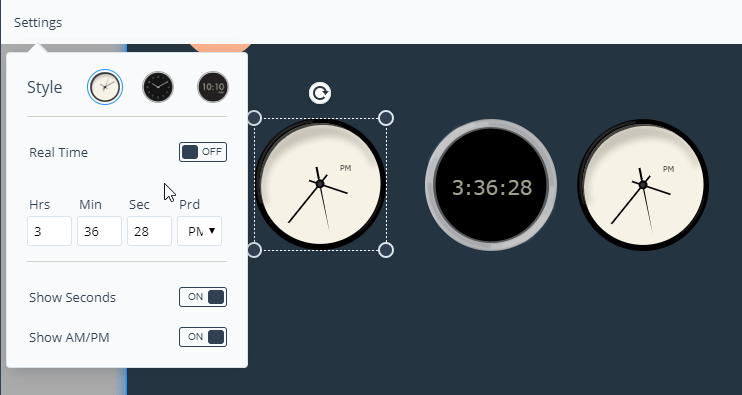 Tip: The Real Time option will display your PC's time. If you want to change the time zone, first change your PC's date and time settings.
4
You can also use this clock to show the current time. This can be especially useful where you want the audience, such as a classroom-full of students, to view the current time throughout the presentation.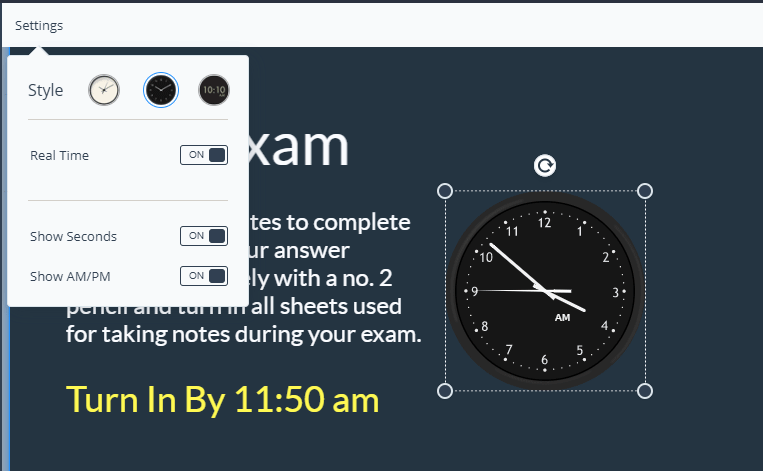 Tip: Make sure the time on your PC is correct as this will be the hour displayed by your clock.
5
To set time for quiz questions, you can choose Counter widget.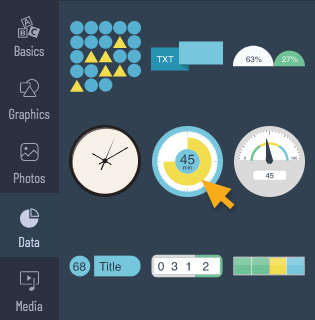 6
If you're an educator, trainer, speaker or something similar to these, this time visualization widgets may come in handy.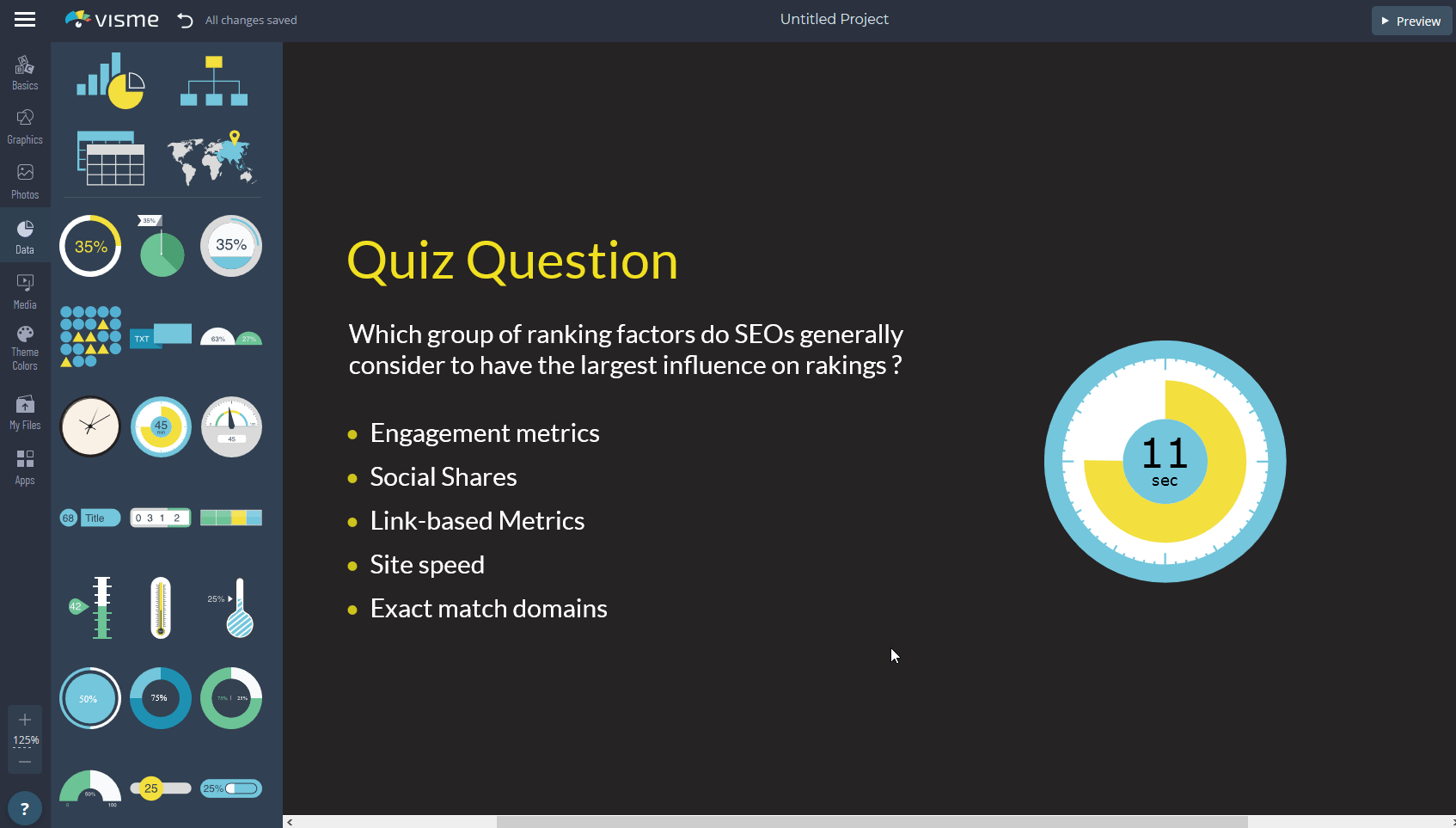 Tip: Educators, trainers and speakers in general will find this feature useful for standalone slide decks or live presentations.
7
You could apply these new infographic widgets into a self-running slide deck before an event starts.
For example, if you have an event that starts at a certain time and you want to play short video clips before it begins, you can run a standalone slide deck and include a countdown timer on each slide.
Also, if you're going to give a presentation within a strict time limit, you can also rehearse with timers on each slide to make sure you don't go over the number of minutes allotted.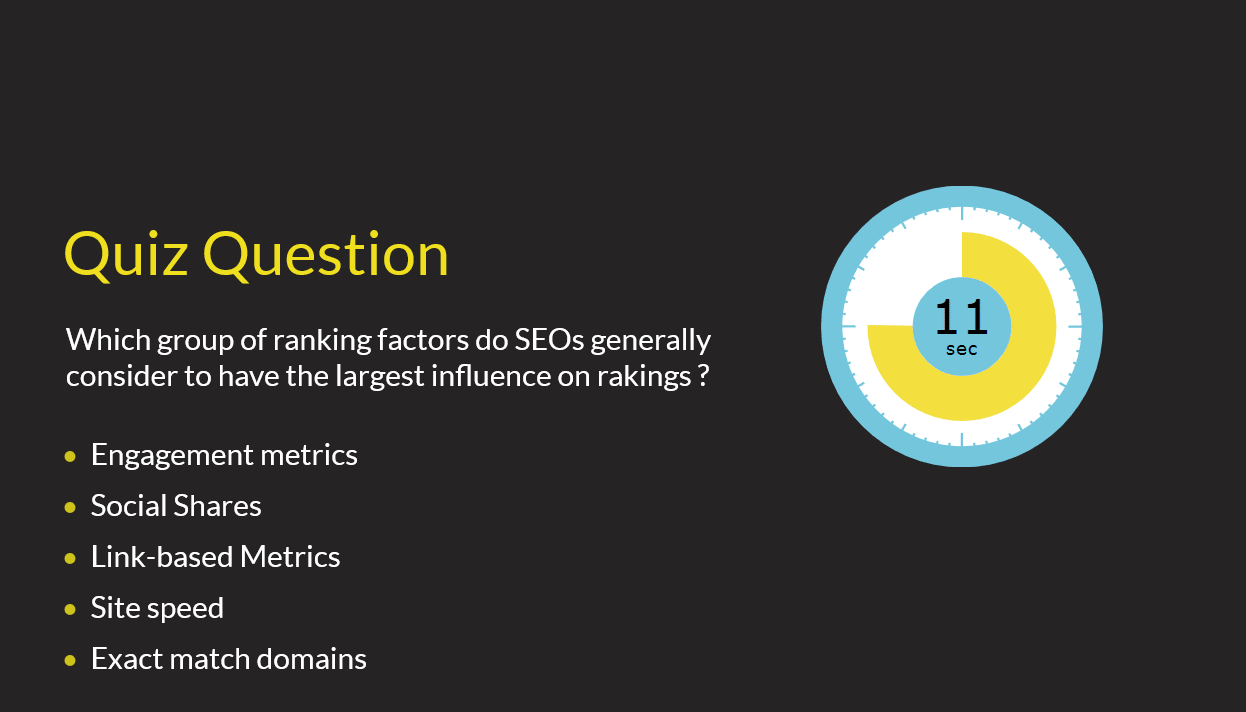 Tip: You can individually change each of the timer's colors and apply color schemes from the Presets tab where there are 50 color combination.
8
If you want to create a visual recipe and want to include preparation and cooking times in your design, you can do so.
You can set the timer to display either in seconds, minutes or hours. You then  choose the range to visualize the percentage on the timer.