QR Code Generator
Generating QR codes with Visme is pretty straight forward, but first let's learn what A QR code is? QR code (abbreviated from Quick Response code) is a type of matrix barcode (or two-dimensional barcode) QR Code can hold any information within the square code. It can be used to link to a text, business card, multimedia, social media channels, and marketing campaigns.
Here's how you can generate your own QR Code using the QR code App inside Visme.
1
Within the Visme editor, click Apps from the left panel.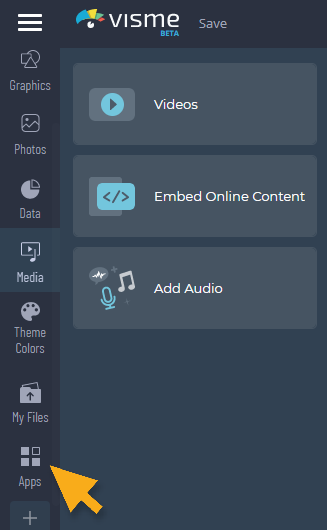 2
Under the Others category click QR Code App and you will be presented with multiple types of content which you can share in your QR Code.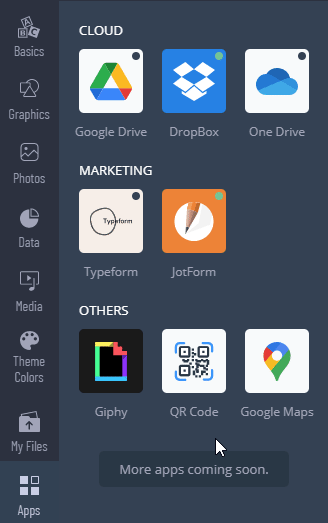 3
URL is considered the most regular use of a QR Code. When scanned, the QR Code opens a link to any page on the web. To create one, select URL. You then insert your URL under Enter your URL field and click Generate code.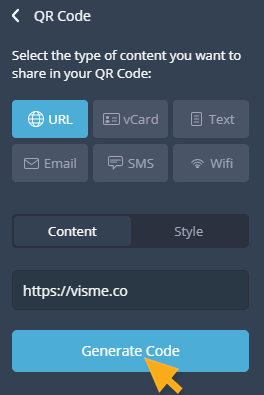 4
A QR Code will be generated and inserted into your Canvas, you can then resize it and place it as needed.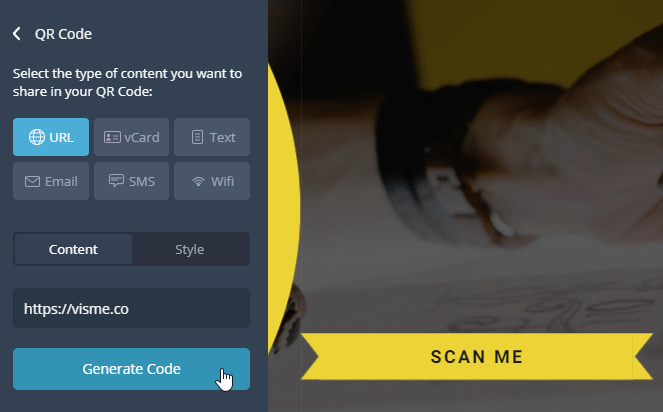 5
To update the content or style of your QR code, simply click your QR Code. You then click on Settings from the main tool bar and you will be able to update the content and change the style of your QR Code: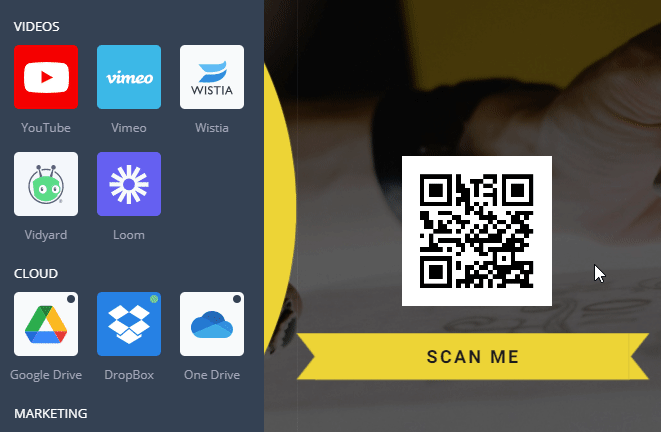 6
Here are all the other types of code which you can share via QR code:
vCard: is the digital version of a business card that can easily be saved on a smart device. When scanned it displays the contact number, email address, name, display picture, interactive address on GMaps, social handles, and any supporting links.
Text: When scanned it displays a piece of text which you have inserted
Email: You can Insert your email, subject line and content so that once your QR Code is scanned your prospects can easily email you directly.
SMS: Users can send a SMS to a target telephone number. By scanning the code, the SMS can be sent to the target number without cumbersome typing.
WiFi: You own a restaurant and you have customers asking for your Wifi password every minute? Generate a QR Code with your Wifi name and password so that when scanned it'll automatically connect them to your Wifi Network.
Note: Make sure you always scan your QR code after it's generated and before you print it. This is to avoid mistake during the QR Code generation, so be sure to test the Code every step of the way.