In cases where you weren't able to find just the right content block for your needs, you can also combine your own desired elements — icons, text, images, shapes, charts, graphs — and save your custom content block for later use in future projects.
How to Create Your Own Custom Blocks
1
Simply click and drag your mouse over the elements of your custom content block and select the Save to My Blocks option from the bar at the top of your screen, as seen above.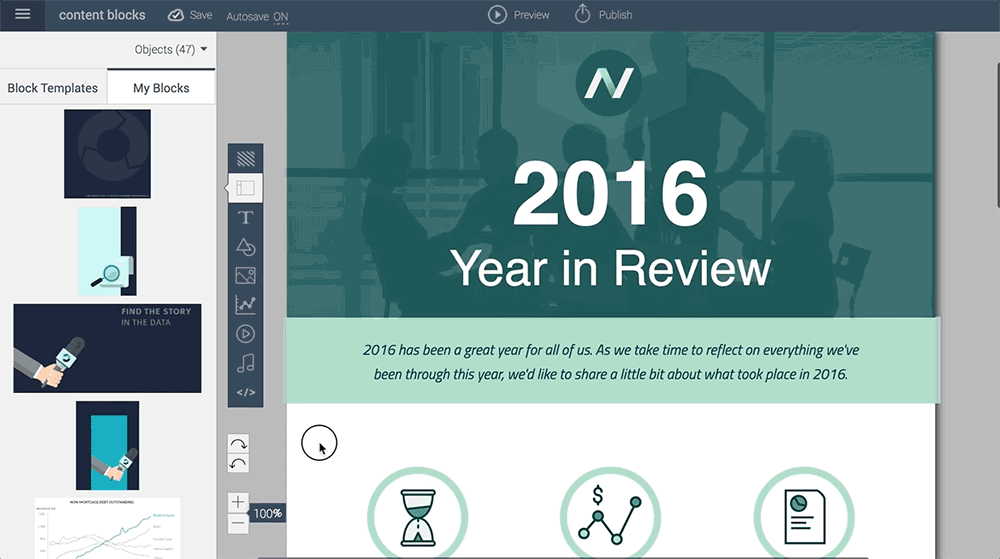 2
Under My Blocks, you can also share your custom-made blocks with your team. By hover your mouse to the block, click on the setting icon, it will show you the option to Share with team. Click again to Unshare.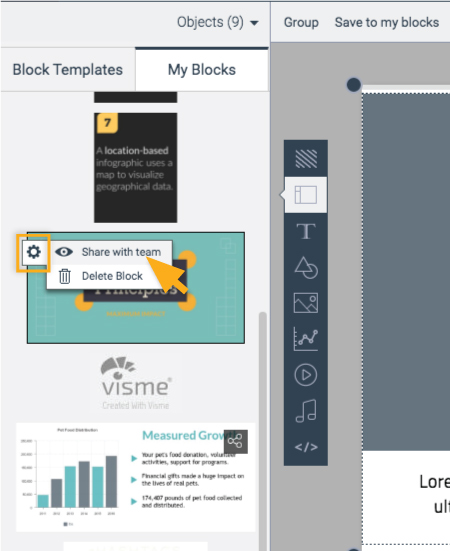 Tip:
You need more than one user in order to use Share with team. Click 
Here
 for more information on how to manage users.
3
Click on the Publish button at the top of your screen to generate a shareable URL. To control who is able to view your project, select the Private option and create a password.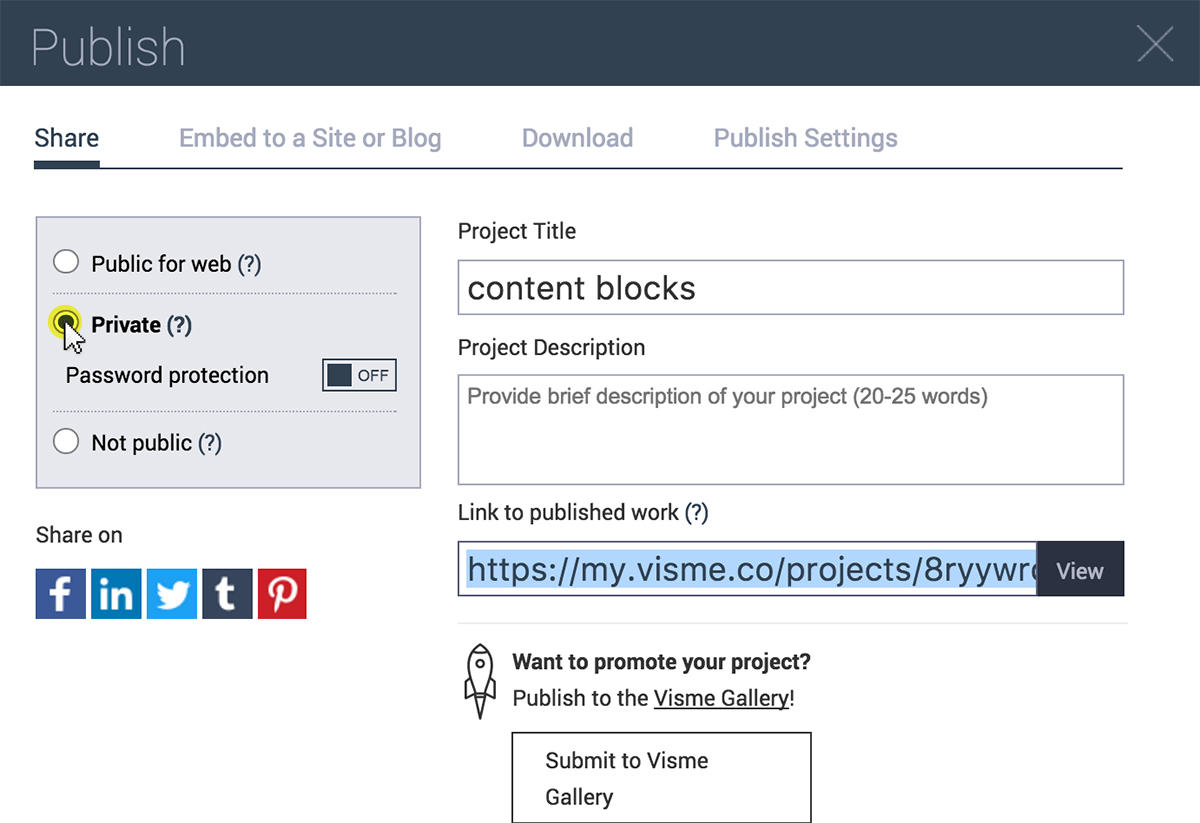 Tip: To print your infographic, click on the Download tab from the pop-up window to download your infographic as an image or PDF file.
---
Watch: How to Create an Infographic in Less Than 5 Minutes Using Content Block
Most do-it-yourself infographic tools provide users with pre-designed templates to choose from. But some non-designers may become frustrated by the amount of time they need to spend modifying templates to their needs; others may want to simply pick and choose sections from a variety of templates to combine into one that perfectly meets their needs.
Visme aims to solve this challenge with a feature that allows users to browse through a library of pre-designed content blocks that correspond to the different sections of an infographic. This way, you can simply drag and drop content blocks onto your canvas area and apply a color scheme with one click.
How to Create an Infographic Using Content Blocks
1
Click on Create New Visme in dashboard to create a new project. Choose the Infographics category from the list of content options and select the first template.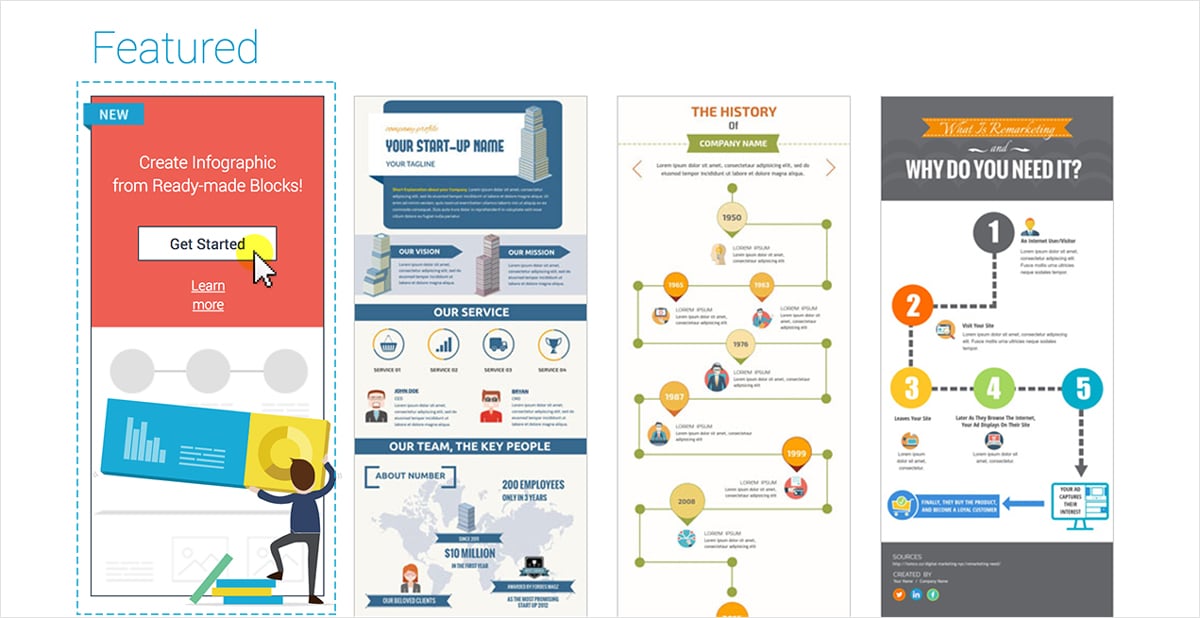 2
Next, simply click on the Content Block icon from the toolbar on the left side of your screen. Select a header style and drag and drop it onto your canvas area.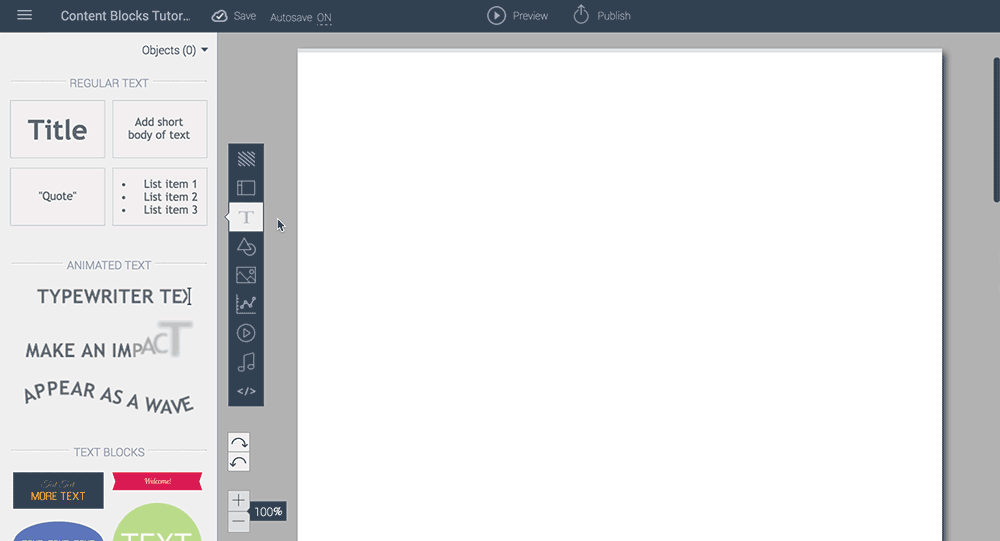 Tip: There are dozens of ready-made blocks, including a variety of header and footer layouts, and body content blocks, such as numbered lists, timelines, and charts combined with text for you to choose from.
3
Depending on the type of infographic you want to create, you can then choose from a variety of 
body content block
 types.
Simply click on the desired block and drag it to your canvas area. Position it below the previous block and release the mouse button.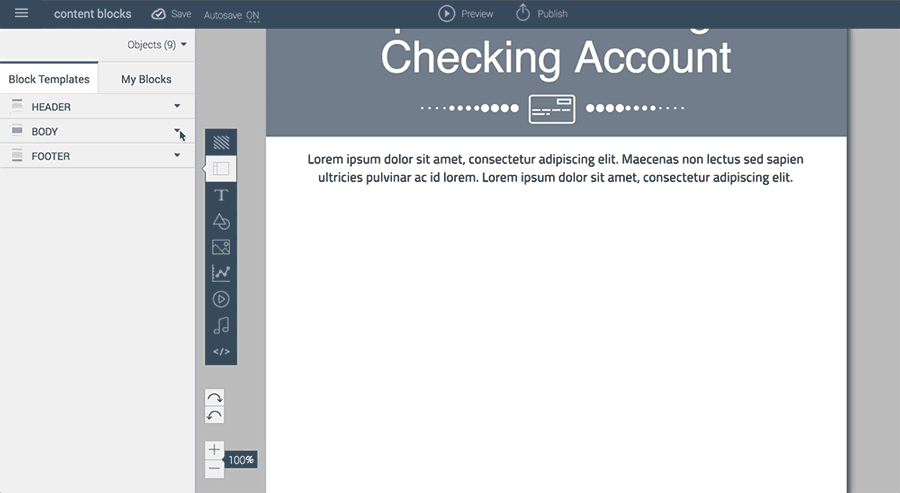 Tip: If you change your mind at any point, you can also click and drag your mouse to create a selection box around the the objects you want to remove and press delete.
4
Once you've positioned all of your body content blocks, you can then choose from several footers, where you can cite sources, include links to social media profiles and insert your logo.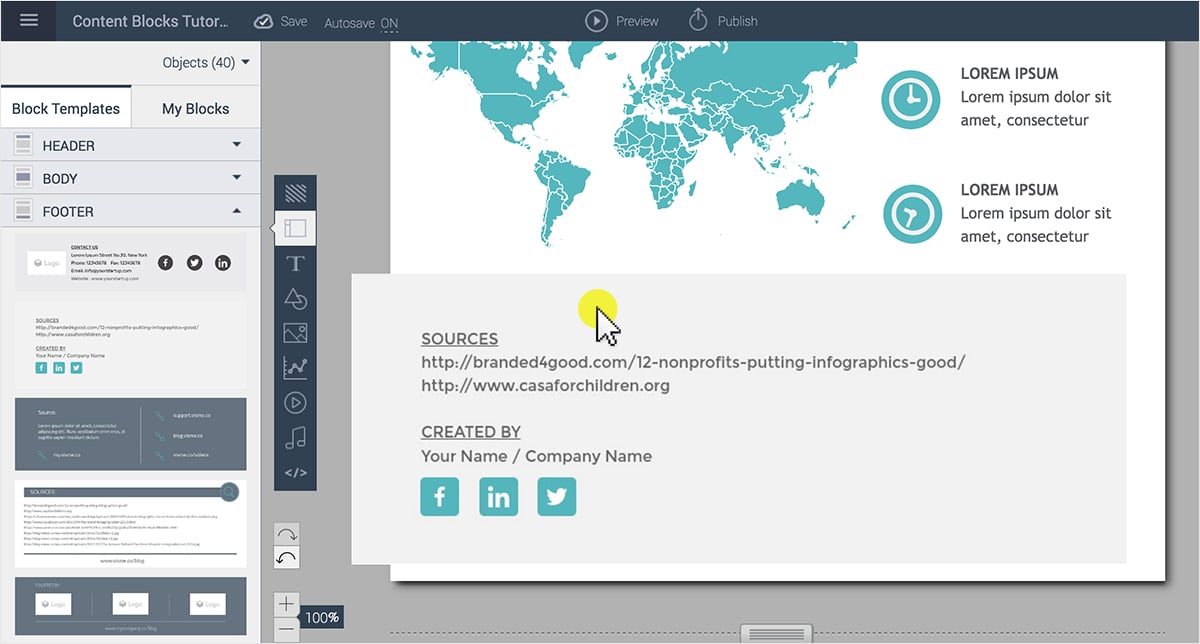 5
Insert your own text into the infographic by clicking on the text boxes and typing in your content or copying and pasting it from a document. You can modify virtually any aspect of your infographic to your liking, from font styles and images to icons and chart data.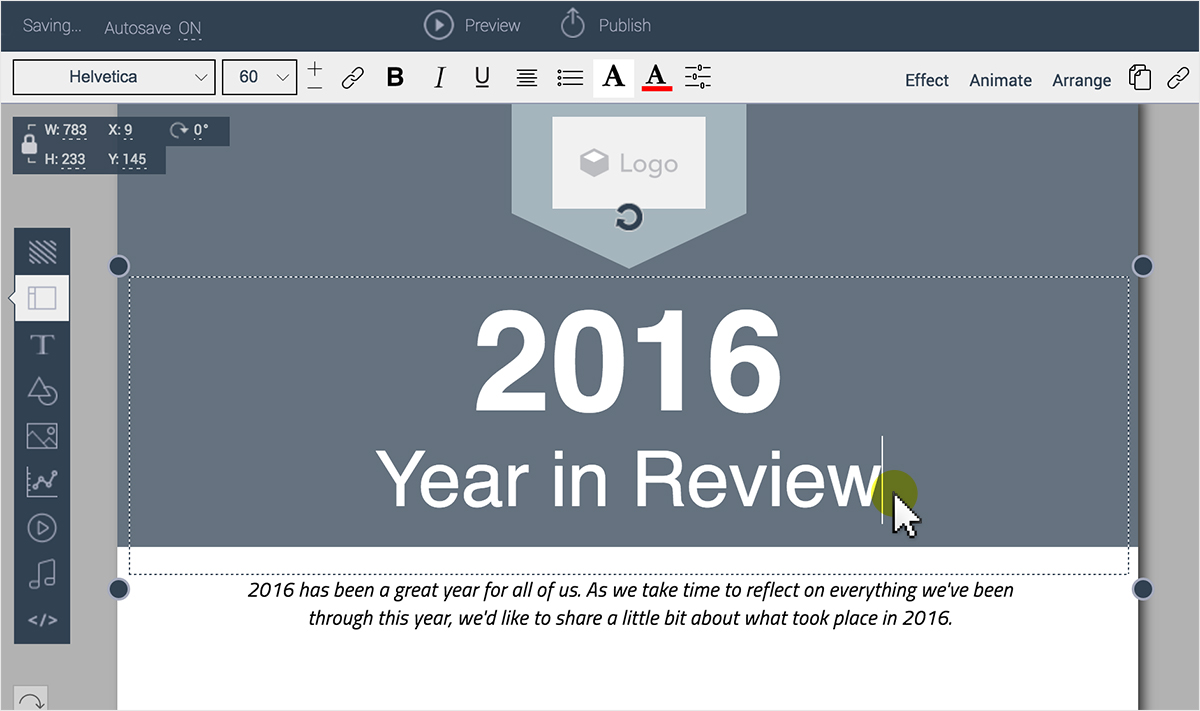 Tips: 
To replace icons, select the Shape & Icons option from the toolbar and type in a keyword relevant to your topic in the search bar. Drag and drop your icon into place after deleting the previous one.
To replace images, simply double click on the image placeholder and choose the desired image from your saved files — it will automatically size itself to the replaced image.
Alternatively, you can also make use of Visme's image bank by clicking on the Image icon from the toolbar and searching for the most relevant image.
6
Once you've customized your infographic with your own content, you can select from a variety of monochromatic color schemes. Under Background in Theme Colors on the left side of the screen, click on any of the color schemes to apply them to your entire infographic.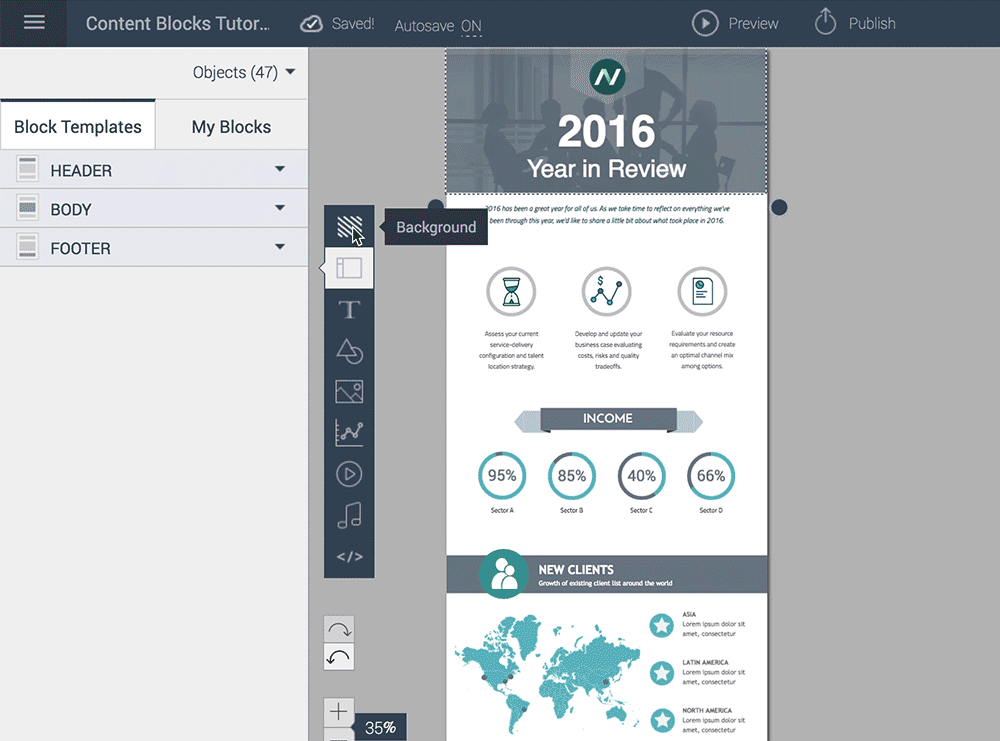 ---
Watch: How to Create an Infographic in Less Than 5 Minutes Using Content Block