You can fully manage various aspects of your published project, and its settings.
There are more than two ways to change your Settings.
Click on the Share button on the top right panel.

You will see the Advanced Settings on top of the right side.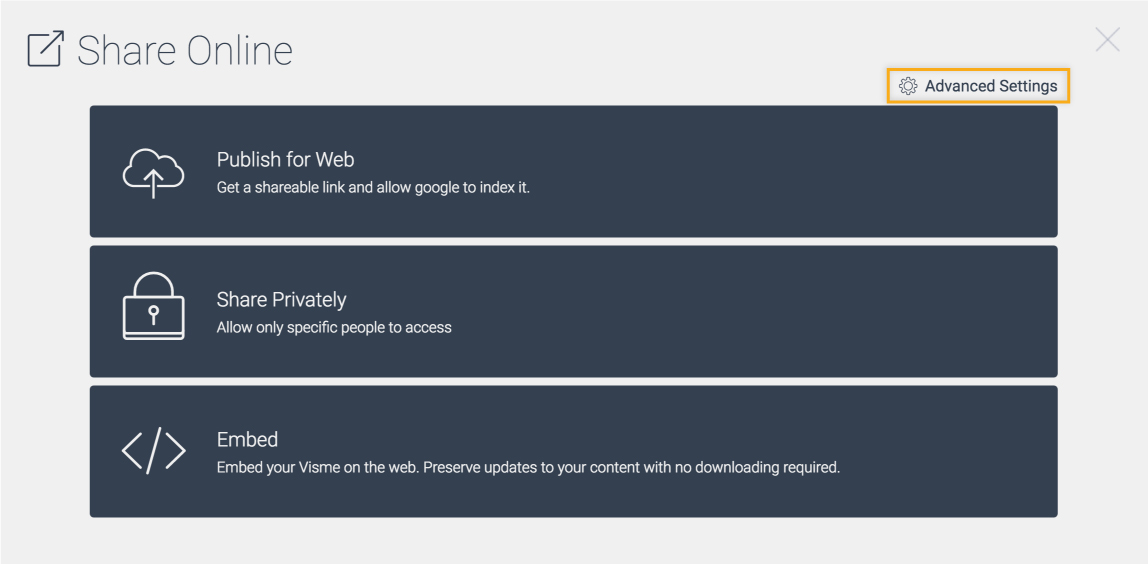 Or, click the top left side of the menu drop-down. You will see the option Advance Settings.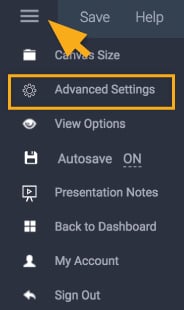 A window will pop up given you the options to adjust the Publish Settings. The window will first show up in Page Design.

Explanation of Publish settings:
Page Design:
  Hide profile
When turned off, your profile and project title will be turned off.
Responsive
When turned on, your project will size according to viewer's display size.
 Page Background
Allows you to change the background color of your published page from the default color.  (This is the real estate that surrounds your project area).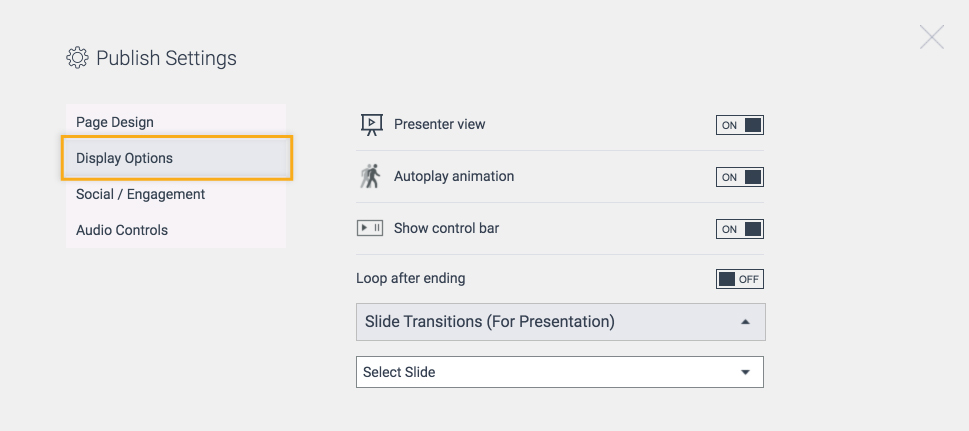 Display Options:
  Presenter view
When turned on, go to Preview and at the bottom right corner, it has the icon option to click. A window with Timing, Current Slide, Next Slide, and Presentation Notes will pop up for you to view.
 Autoplay Animation
When turned on, it will automatically play any animation and interactive content in the timeline of your project.
 Show Control Bar
When turned off, it will hide the control bar from published project.
 Loop after ending
When turned on, it will automatically go to next slide at end of each slide without manually clicking to go to next slide. This feature will automatically turn on if you set a slide transition to go to the next slide after x seconds.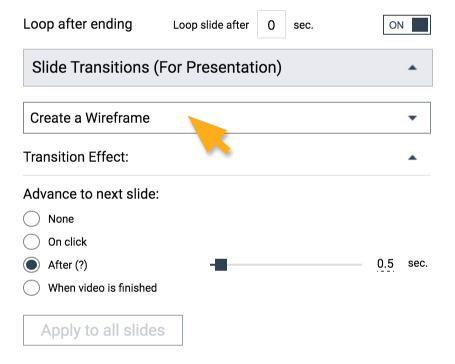 Click on select slide and choose a slide to edit its transition effect as shown above.

Social/Engagement:
 Allow Social share
When turned on, allows your visitors to share your Visme on their favorite social networks.
 Enable Comments
When turned off, it removes comments and the ability for users to create comments under your project.
 Requires registration
When turned on, it will place a form in front of your visme project.  And collects contact information about visitors who access your visme.  You can then view, filter and download this information via your Visme Dashboard.  (Great for lead generation and inbound marketing).

Audio Controls:
 Background Music
When turned on, music can be heard from the background while playing the presentation. The music stops when the presentation is finished.