You can fully manage various aspects of your published project, and its settings.
There are more than two ways to change your Settings.
Click on the Share button on the top right panel.

You will see the Advanced Settings on top of the right side.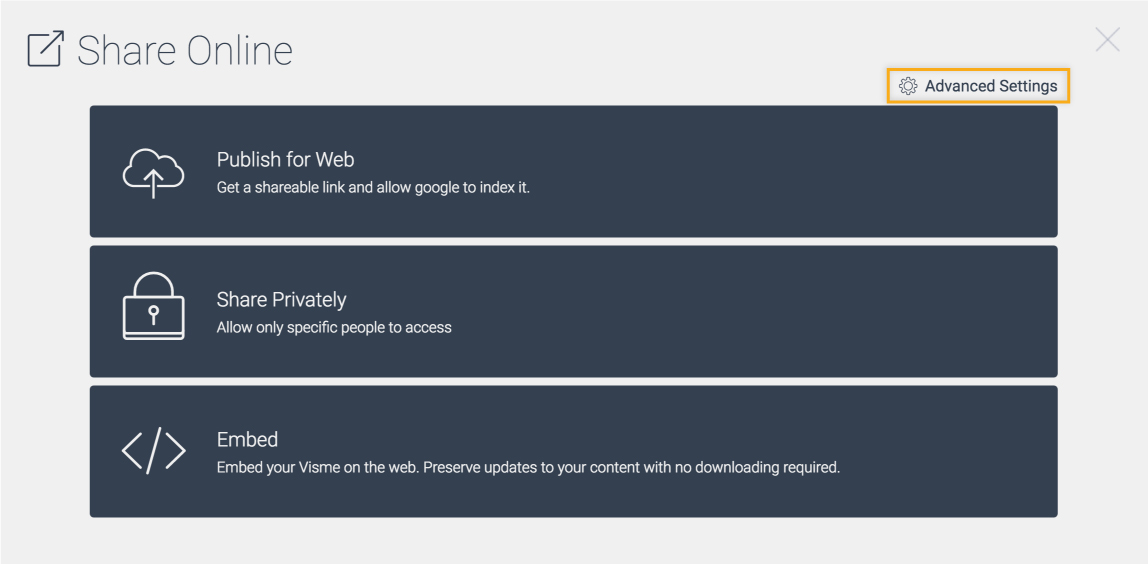 Or, click the top left side of the menu drop-down. You will see the option Advance Settings.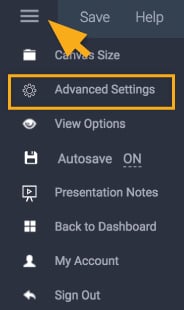 A window will pop up given you the options to adjust the Publish Settings. The window will first show up in Page Design.

Explanation of Publish settings:
Page Design:
  Hide profile
When turned off, your profile and project title will be turned off.
Responsive
When turned on, your project will size according to viewer's display size.
 Page Background
Allows you to change the background color of your published page from the default color.  (This is the real estate that surrounds your project area).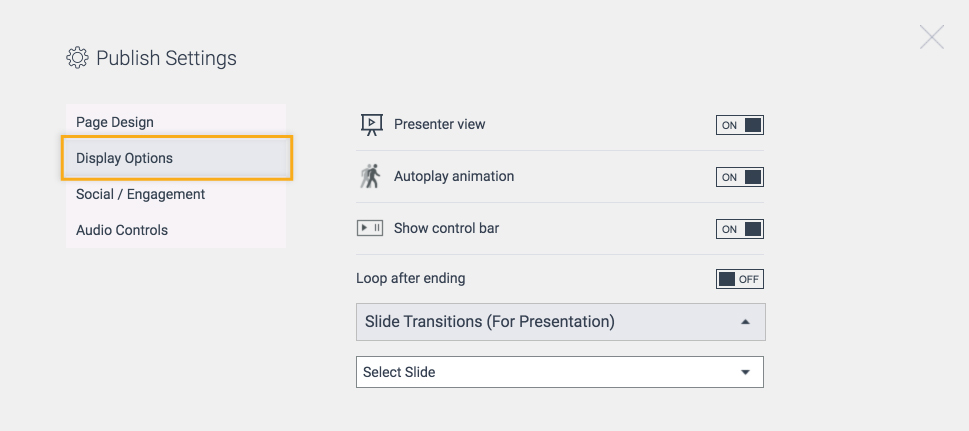 Display Options:
  Presenter view
When turned on, go to Preview and at the bottom right corner, it has the icon option to click. A window with Timing, Current Slide, Next Slide, and Presentation Notes will pop up for you to view.
 Autoplay Animation
When turned on, it will automatically play any animation and interactive content in the timeline of your project.
 Show Control Bar
When turned off, it will hide the control bar from published project.
 Loop after ending
When turned on, it will automatically go to next slide at end of each slide without manually clicking to go to next slide. This feature will automatically turn on if you set a slide transition to go to the next slide after x seconds.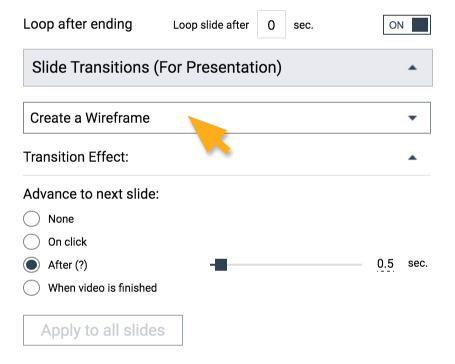 Click on select slide and choose a slide to edit its transition effect as shown above.

Social/Engagement:
 Allow Social share
When turned on, allows your visitors to share your Visme on their favorite social networks.
 Enable Comments
When turned off, it removes comments and the ability for users to create comments under your project.
 Requires registration
When turned on, it will place a form in front of your visme project.  And collects contact information about visitors who access your visme.  You can then view, filter and download this information via your Visme Dashboard.  (Great for lead generation and inbound marketing).

Audio Controls:
 Background Music
When turned on, music can be heard from the background while playing the presentation. The music stops when the presentation is finished.
There are multiple options to Share/Publish and fully manage your project for web / online use.
Not only can you publish your project and access via a URL which you can email or direct users to, but you can also share it on your favorite social networks, and embed to a website. Additionally you can manage various aspects of your publish page and controls from the publish settings menu.
How to publish a Visme project: 
Once ready to share/publish your project, towards the top right side of your project panel click on the "Share" button.

A full-screen will pop up and you will see three options, click on Publish for Web. It will also present you with advanced settings and options.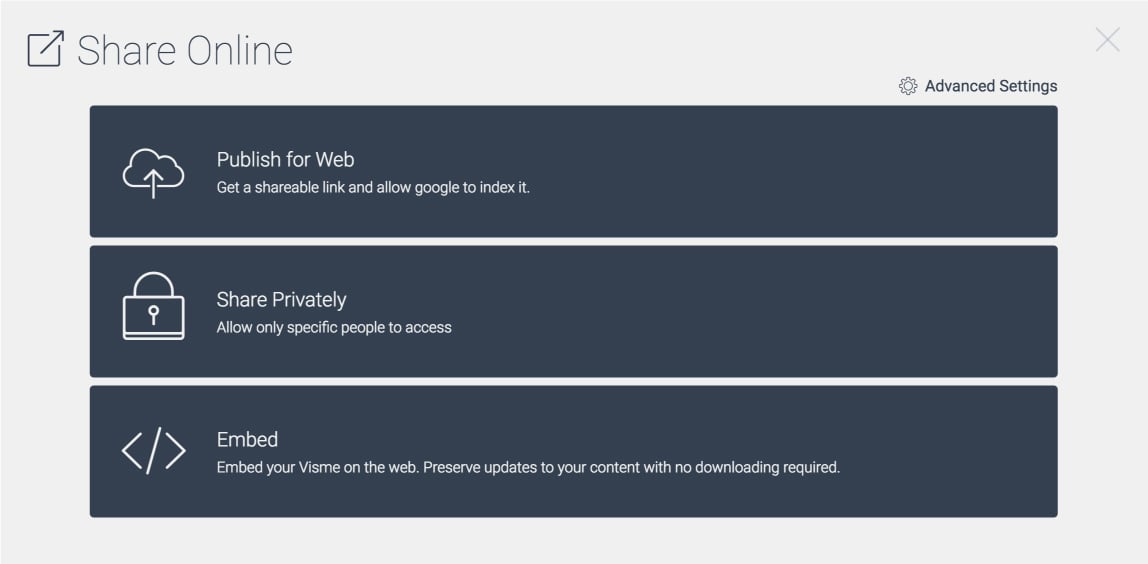 Tip: You can keep coming back and update your project and share/publish again as needed.
Publish page and acquire Link (URL):
The link (also called URL) of your project will be a direct link to your project that is hosted on Visme.
You can copy the URL and paste in an email, manually input on various social network or use as a link to your project from any other third party source to bring visitors to your published project.
Publish page and share on social networks:
To share a project on a social network or to email it through the publish panel, click on any of the desired shared options.
For example if you wish to share on Twitter, click the twitter link and Visme will automatically populate with starter content and screenshot of your project.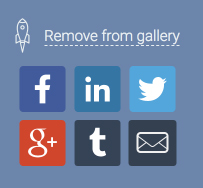 You can also share your project with Visme gallery.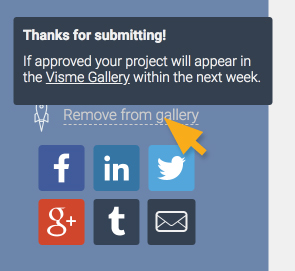 To stop publishing, simple click on Stop publishing button and you will not have the options to share your project with link, social network and Visme gallery.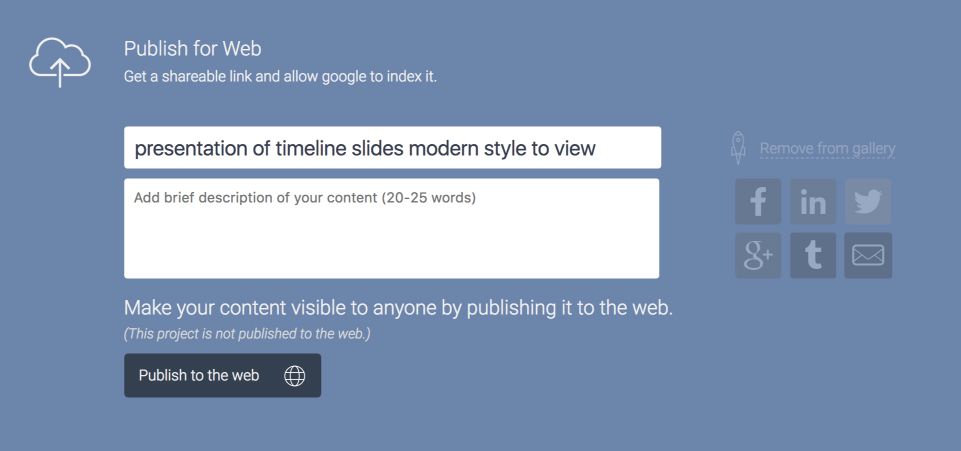 Embed to a Site or Blog
A Visme can be easily embed to any website or blog. The process is very similar to how one embeds other third party objects such as from Youtube.
– Click on the Embed to a site or Blog tab.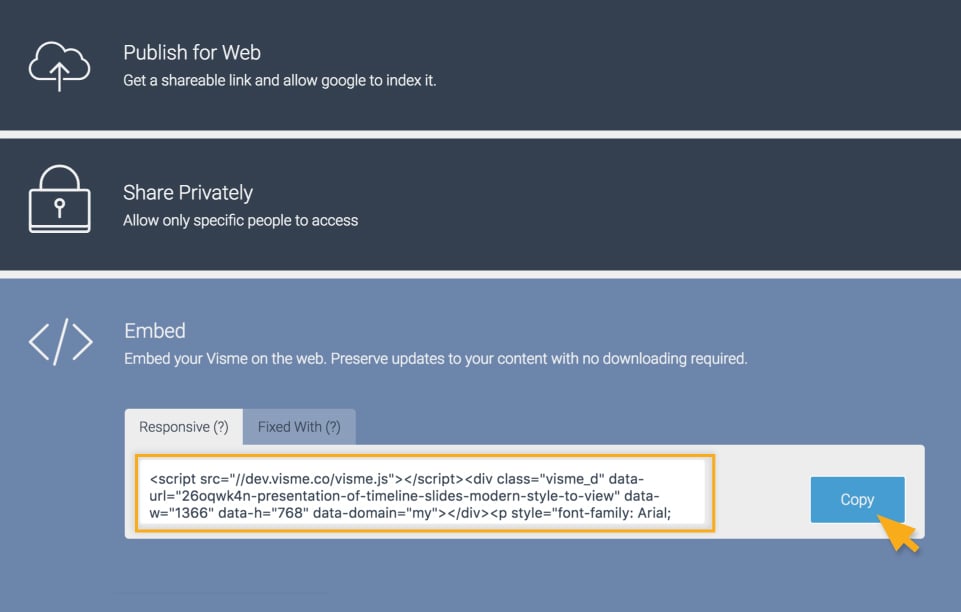 – Copy the HTML code (also called "embed code") and then paste to your website or blog.
Tip: You need to insert this into the HTML code of your website.  Nearly all site builders, and CMS (Content management systems) have the ability to insert HTML code snippets to web pages.
here's an example of how embed code is added to WordPress, the most popular open source blogging/website platform
First locate page you want to add the code to. Then switch from Visual mode to Text mode.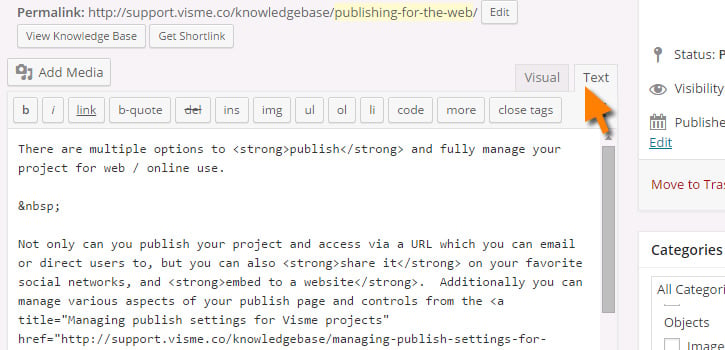 Then paste the embed code you got from Visme to the editor window. Remember you would have to locate the area you want to paste the code into. If you are not familiar with HTML code, you may need to paste and preview few times to get the location to your liking.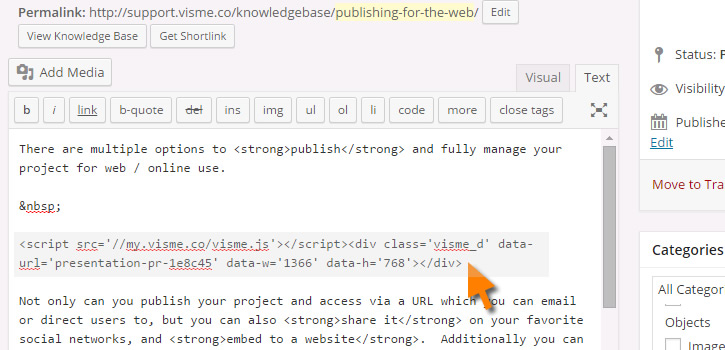 Tip: If you are not sure how to insert this, refer to your website's documentation or contact your webmaster / web designer for assistance.
Click here for full details on how to embed to your own website or blog
Manage project's publish settings: 
You can fully manage various aspects of your publish project, and its settings.  Learn more here.