Uploading Images to Media Manager
The Media Manager feature in Visme gives complete control over managing, editing and organizing your assets. The media manager houses your library of assets and allows the user to:
– Add new images from your computer (JPG, PNG, and even Animated Gif files)
– Gives you the ability to easily replace one image used across several different projects.
– Organize your assets into labels and/or folders.
How to access and use the Media Manager:
1
Select the Images icon from the left hand Tool Bar.
2
To access the Media Manager, click the My Library which can be found at the upper left of the page next to Upload Image.
3
A dialog box will appear in which you can browse for the image you want to upload by clicking
+ Add Media
. Select image file you want to upload (JPG, GIF, PNG) and click
Open
 button to complete.
Your uploaded file will be stored in your My Library in which you can easily insert to your presentation or infographics by clicking on the image.
---
Managing your Asset
You can also manage each asset including the ability to rename file, replace file, and assign labels for easier location.
1

Rename:
You can rename a file by clicking Rename and modify the name via the pop-up. Avoid using special characters such as  "! # $ %" in your naming conventions.
2

Replace:
You can replace an existing image by replacing it with another file.
Note: if the same asset is used in more than one project, when you replace it, the file replacement will take place across all other projects.   This can be very helpful when the need arises to replace an image across multiple projects without having to do this individually. (Make sure to replace with an image of same size/proportions to maintain formatting)
3

Organize:
You can organize and more easily locate projects by adding labels on it.
From your Media Manager home, you can view the images set with a specific label. Same with folders below, you can also drag and drop images to a certain label for a more organized library.
You can also organize files by dragging and dropping them into folders.
Once an image is inserted you will have a separate set of properties to the side of the image to crop and add special effects.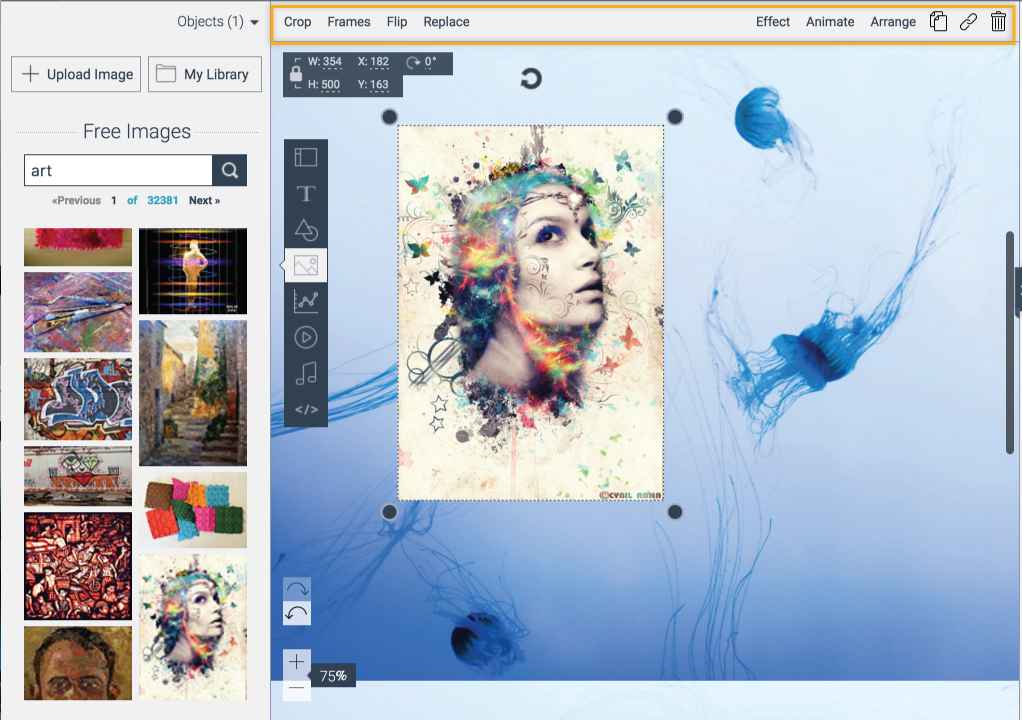 You can also tag your assets by assigning labels and folders which can in turn be searched by key word.

---
Watch Video Tutorial:
Helpful Tips:
– You can learn more about Media Manager from our Visual Learning Center.
– Learn more tips on how to organize files in Media Manager.