How to add and embed external online content
Sometimes you may want to use a third party service to insert content from an external application to your Visme projects.
What does this mean for you?
By using the iframe widget, you can pretty much insert content from any trusted third party provider that gives you iframe code (which is virtually any established provider such as Wufoo for forms, SlideShare for Slides, and Spotify for Audio, etc)
What is an iframe?
In the brick and mortar world, a frame is defined as a rigid structure that surrounds or encloses something such as a door or window. In an online term, we have what's called an iframe which allows one to insert framed contents (an HTML document that is embedded inside another) from virtually anywhere on the web into their own website.
Visme enable this feature so you can embed external content to your Presentations, Infographics, Animations and virtually anywhere else you create with Visme platform.
Here's how you can use the Embed Online Content feature to embed any URL/Website or iframe widget into your Visme project.
1
Select Media from the left panel,
then click on the Embed Online Content option.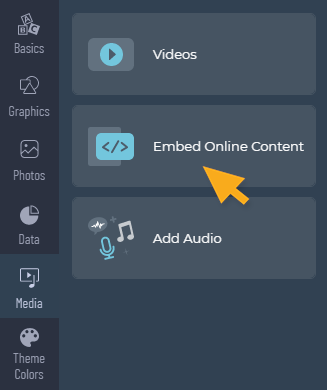 2
The Embed Online Content pop-up will appear and on the top-right corner you can choose between URL,iFrame and HTML depending on what you want to embed.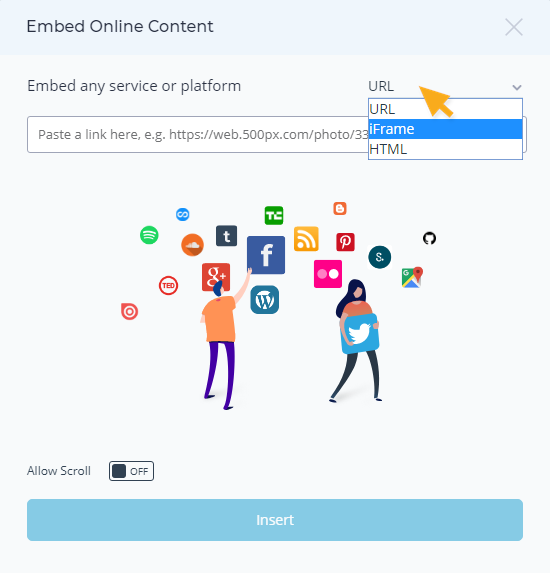 3
You can for example: embed a tweet and also enable scroll so viewers will be able to scroll through the embedded the content, if your embedded content contains links, the same be clickable.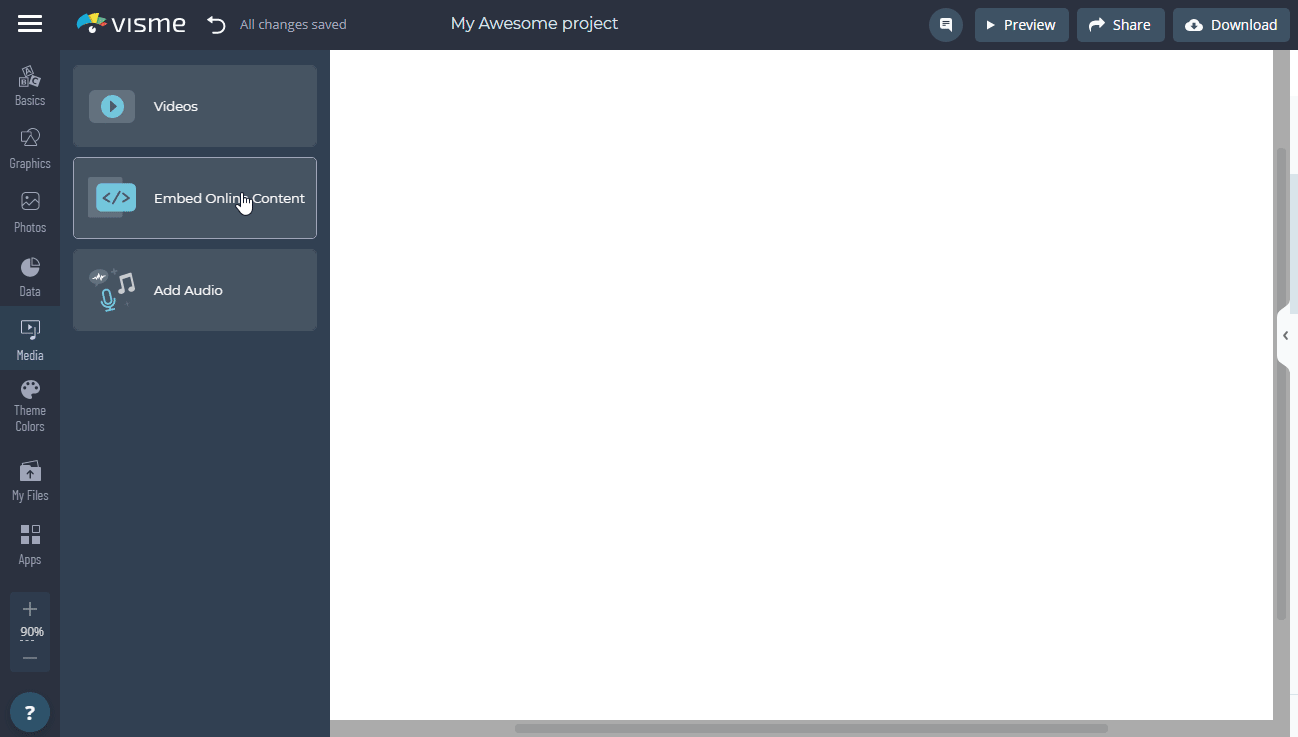 4
Want to embed Iframe instead?
Simply
Grab the iframe code from your favorite platform.
Today, most web-based content providers allow you to utilize their iframe code to insert content to other sites (or in this case, allow you to insert content to Visme). This includes Youtube, Vimeo, Spotify, Wufoo (for forms), and thousands of other providers. Visme provides it's own embed code too so that you can insert it to another site or any of your other projects.
Below is an example of an iframe embed code from Wufoo, a free form provider.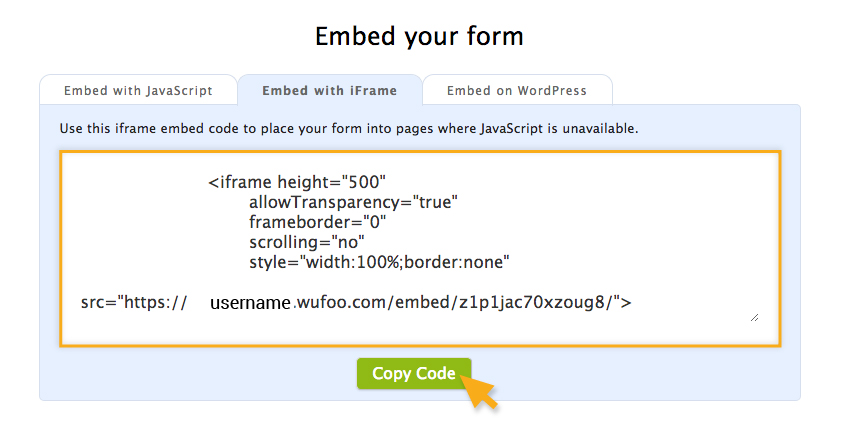 5
Copy and Paste the embed code in the iframe widget input box.
You would need to copy and paste the external iframe content once the iframe widget is launched. Click Done. Now your third party content will be inserted right in your project (canvas area). Note: If you ever want to edit your iframe, click Settings on the top left of the screen to make changes.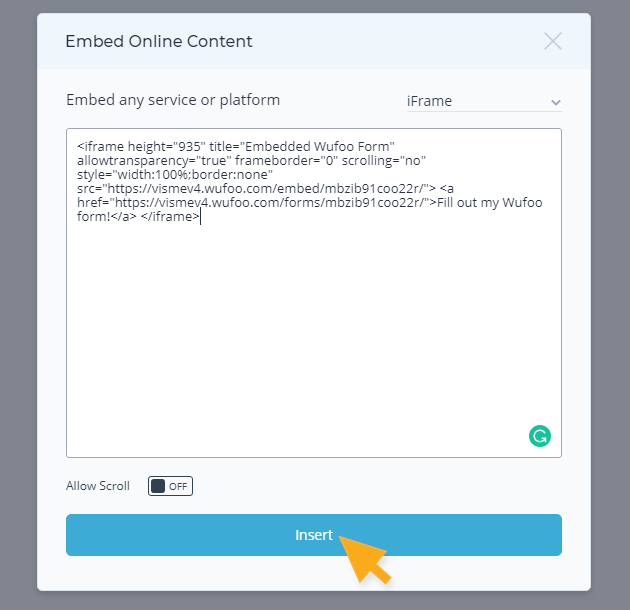 6
Customize your iframe in your Visme project. (Optional)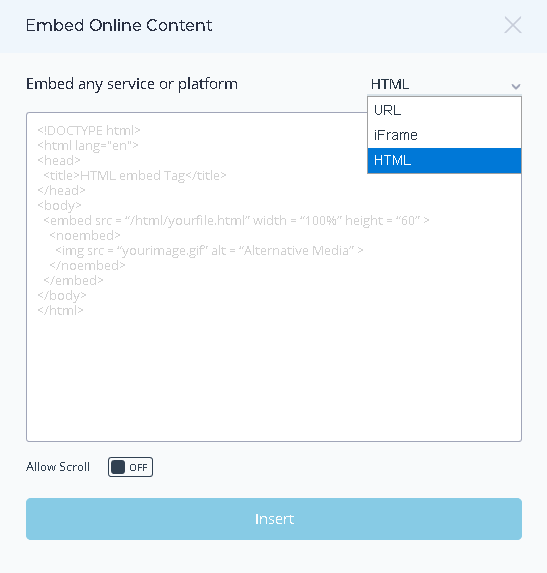 7
You can play with the customization using Visme design features and assets. What this means is that even though you may have a boring looking piece of content (assuming it is transparent as shown below), you can add a background color and various objects icons within your form to make it stand out more. Note: You don't ever want to over do it with the design. In the example below, placing a solid background color to the transparent content automatically enhance your slide.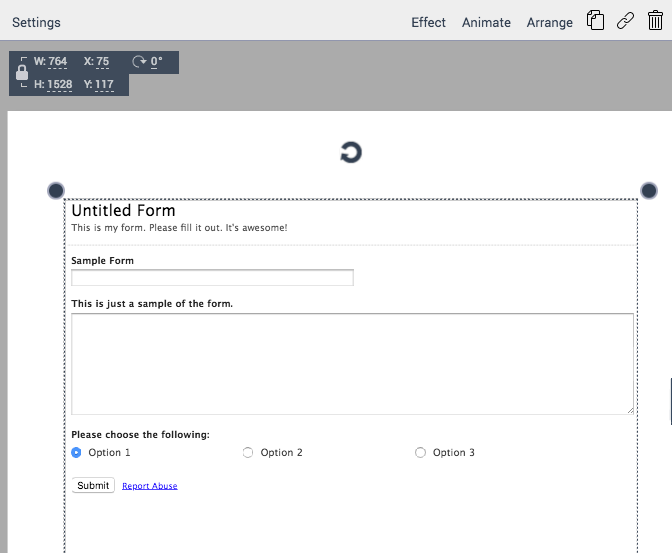 You can insert simple shapes or icons, transparency, filters or images to make your content standout. It is all about having a simple and clean design. You want to have a balance between your content and your design.
---
Tip: This custom html feature is only available for enterprise clients.