How to present offline to an audience
One of the biggest advantages of using an online presentation tool like Visme is the fact that you can access your slide deck from anywhere without having to install software or open PowerPoint. All you need is a browser (Google Chrome, Internet Explorer or Safari) and you are good to go.
Let's just say that the day you need to present your presentation and there is little to no internet connection? This is a huge concern for presenters especially when using completely browser-based tools.
Visme offers the ability to download your project (presentation) as HTML5 (latest iteration of HTML) which preserves all the functionality you added in your project including animation effects, audio and interactivity.
You can launch the Presentation offline and you can also launch it in Presenter mode (see further down below on how to use Presenter mode)
1
First thing that you need to do is
download your project
.
Login to your Visme
account
. You then select any project in your Dashboard that you want to download as HTML. Once you are in the Visme Editor, click
Download
 at the top right of your screen.

2
Select Present Offline option, you will then choose either PPTX or HTML5 format, click on HTML5.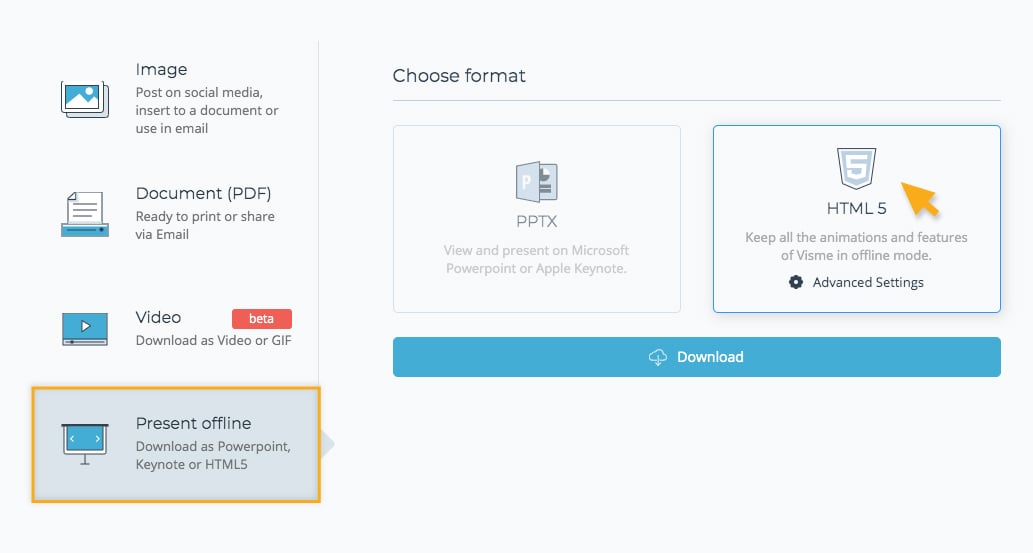 3
When you download your project in HTML file, you are actually downloading your project in a zip file (a standard compressed format). After you download HTML file, you would need to go to your Download location and double click the .zip file to upzip it if you are a Mac user or copy the file to your local computer (right click the .zip file and then select extract all) if you are a PC user. The project will be in a folder that is similar to the image shown below.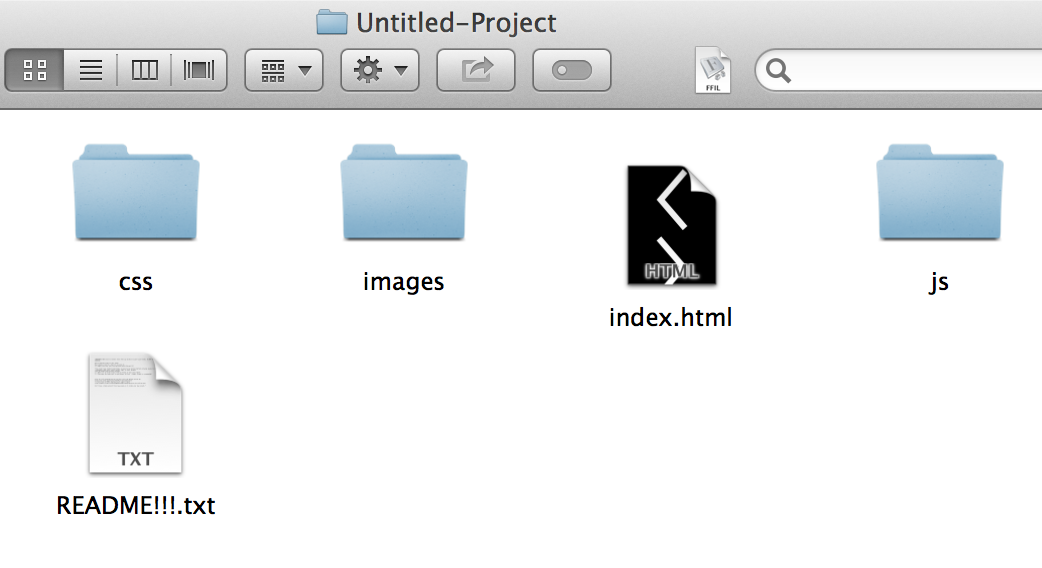 When you double click the file, it should open automatically in your local browser.
Tip: 1.) Make sure to extract files from zip folder to your local folder. 2.) Then open the index.html in any browser offline (Google Chrome is recommended).
How to present offline in front of an audience:
If you are going to present in front of an audience using a second screen (ex. such as a projector), then you can use the Visme presenter mode to launch the presenter view on your computer or laptop (where you can control presentation and view presentation notes) and control the screen such as projector that your audience will be viewing.
This allows you to access your own presentation notes and control the pace and when you want to move between slides.
1
Once you have downloaded your HTML5, open index.html by double clicking it.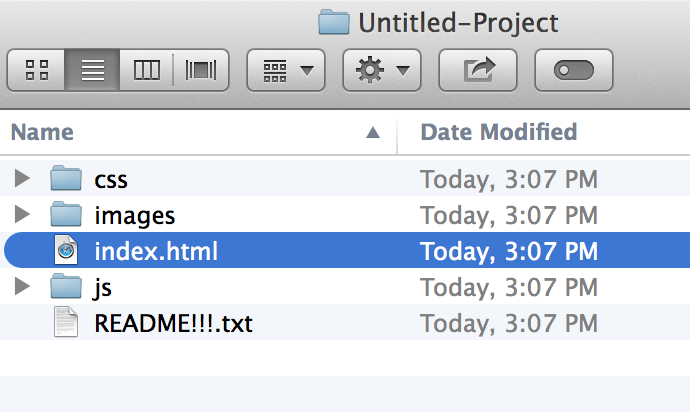 2
You can then view your presentation slides like how you want it and present offline without any complications.
3
If you want to launch Presenter mode, you would need to open Presenter View. Simply click on the Presenter View Icon at the bottom right corner.

This is a handy feature because it allows you to control your presentation. You can view your presentation in your laptop screen and see your presentation notes and have another screen to present your actual presentation. Learn more on how to add and use Presentation Notes.
4
A window (Presenter View) will pop up. As you click each slide on the Presenter View, it will reflect on the projector for your audience to see.