How to present your content
Visme gives you the ability to present your content in multiple ways. This article covers all presenting options that Visme offers, and much more.
So, the question is: Should you publish your project online, download it, embed it on your website or share it privately? If you don't know which one to go for, don't worry as we are here to help.
Publishing your project to the web
To have your project published and accessed by anyone who has your project URL is by publishing your project to the web.
1
You can do so once you are done with your project. If you want to publish it. Click Share at the top right of the screen.

2
Then you will see three options: Publishing for Web, Share privately and embed.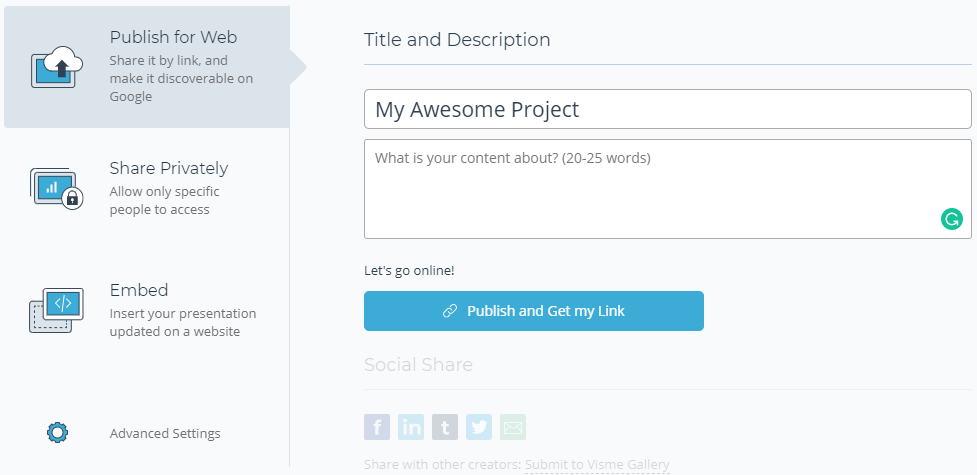 You can choose one of three options, depending on what you want to do with your project.
Publishing for Web:
Once you clicked on Publish for Web button, it will lead you to a page where you can edit the title of your project and add a description and it will generate a URL link for you to share it online with other people. Anyone with the link is able to view it. Click here for FAQ's on Downloading and Publishing Projects. If you would like, you can also share your project on social media such as Facebook, LinkedIn, Twitter, Google+, Twitter and Email.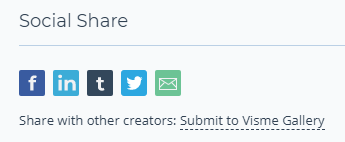 Share Privately:
You would choose this option if you want to make your project private so only people you give access to can view it. This means that you can password protect your project. In order for anyone to view your project, they must enter a password that you set. Learn more on how to make your work Private.
Embed:
You would choose this option if you want to embed your project to the website or blog. This preserve updates to your content with no downloading required. You simply copy and paste the generated HTML code to the website in which you want your project to show. Click here for full details on how to embed HTML code to your own website or blog.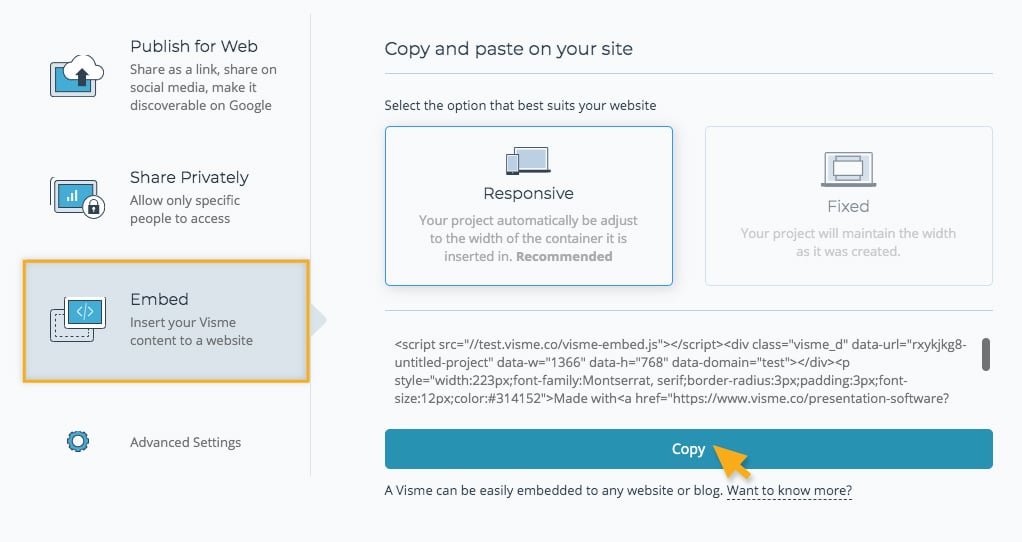 You can also manage various aspects inside the advanced settings menu.
---
Downloading your projects
Sometimes when you need to do a presentation but you are not sure if there will be a stable internet connection to present your project. In those situations, it's always a smart choice to download your presentation for offline use.
You can download your project as a JPG, PNG, PDF, MP4, GIF, PPTX and HTML5 file. Kindly note that not all download formats are available for some content types. If you added animations or audio in your presentation, it is recommended to download it as HTML5 as this format will preserve interactive effects while JPG/PNG and PDF will not.
1
To download your project, you just need to click the Download button at the top right corner of the screen.

2
Then select the download format you prefer.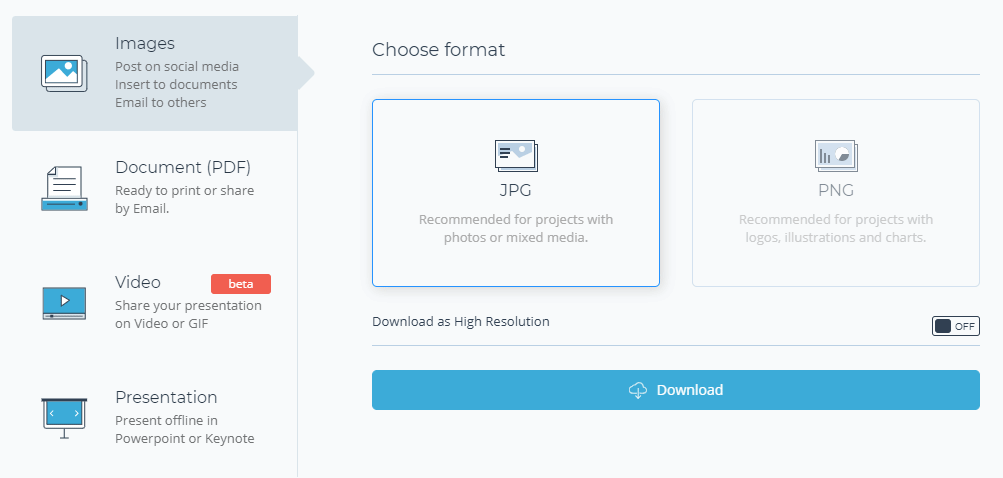 To learn more about downloading your projects for offline use, click here.
---
Using Presenter View
If you are going to present in front of an audience using a second screen (ex. such as a projector), then you can use the Visme presenter mode to launch the presenter view on your computer or laptop (where you can control presentation and view presentation notes) and control the screen such as project that your audience will be viewing. This allows you to access your own presentation notes and control the pace and when you want to move between slides.
Presenter view mode is available on HTML5 download format, so once you download your project in HTML5 format, you will be able to enter the presenter view mode.
Here's how: When you download your project in an HTML file, you are actually downloading your project in a zip file (a standard compressed format). After you download HTML file, you would need to go to your Download location and double click the .zip file to unzip it if you are a Mac user or copy the file to your local computer (right-click the .zip file and then select extract all) if you a PC user. The project will be in a folder that is similar to the image shown below. So, once you extract your HTML5 file, double-click over index.html.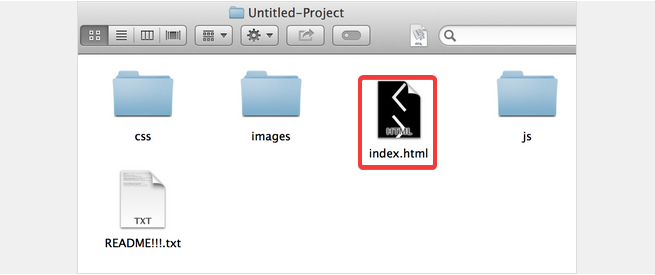 1
To enter the Presenter Mode, all you need to do is click on the Presenter View Icon located at the bottom right corner.

2
The Presenter Mode view will pop-up and as you click each slide on the Presenter View, it will reflect on the projector for your audience to see.
---
Viewing your project inside your dashboard
You can also view your project without to go inside of Visme editor, this can easily be done from your dashboard.
1
Simply hover your cursor over your project and click the hamburger icon. You can go to the drop-down menu and click over the "View" option.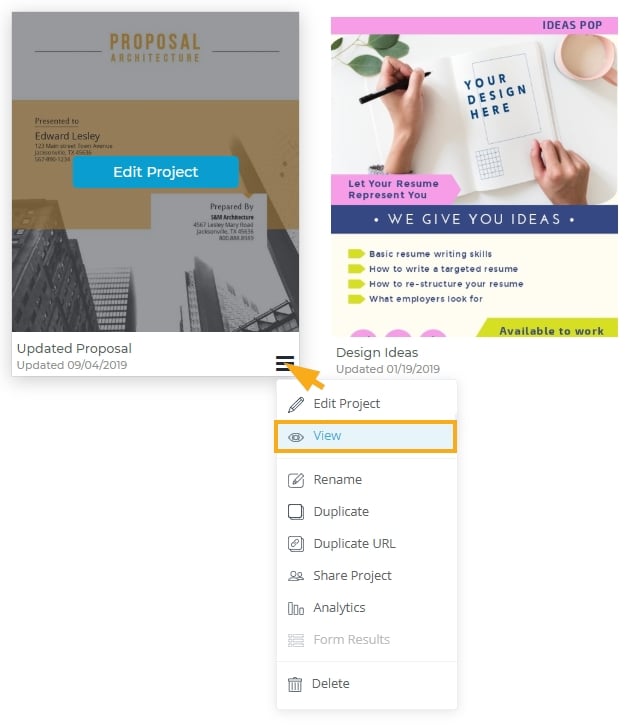 2
You will then get redirected to the view mode where you will be able to view your project and content. You can zoom in and out to fit your screen.