Publish or Download a Presentation in Visme
Aside from publishing content online, Visme allows you to download your work for offline use.There are multiple options to Download your Visme including the ability to download as an image (JPG/PNG),  document (PDF), and HTML.
How to download your project:
1
Open your desired project in Visme so you can download it.
2
Click the Publish button to launch the Publish pop-up.

3
Select the Download tab to access download options.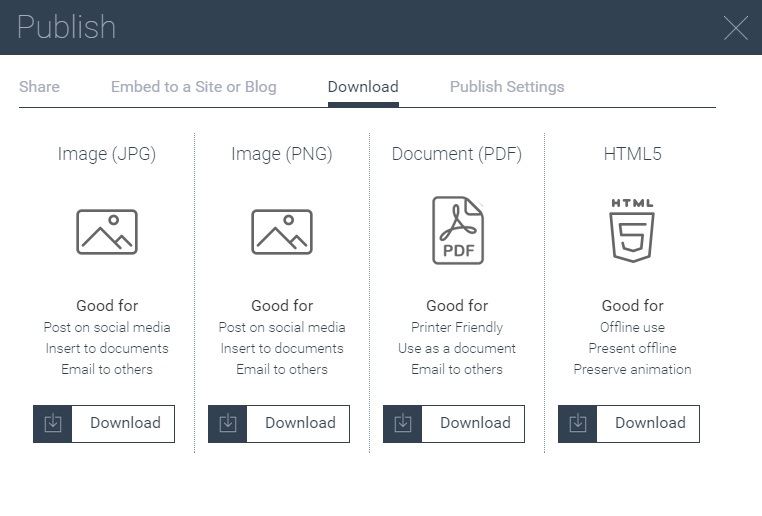 Deciding between download options:
 Download as an Image (JPG/PNG)
JPG is available with free plans while PNG is available in Premium, this option allows you to download an image (like a screenshot) of your project. If you are looking to insert your project as an image to your website or use it on screen elsewhere, this would be the preferred option.
Note: All slides will be downloaded as JPG/PNG once you've start to click Download as JPG/PNG. You can open the downloads folder and see each slides being downloaded.
 Download a document (PDF)
Available as a Premium option, the download as PDF is a great option to download content as high quality digital documents. PDF's are standard document formats that can be opened by virtually anyone, anywhere.
Additionally  if you have multiple slides, the download PDF will download all of your slides into a multi-page document. You can also use PDF version for printing. Note: there is a limit how many slides you can download at one time typically limited to 50 slides.
Although not recommended for professional printing,  the PDF version can be printed in-house as it will retain all vector (scalable) objects.
 Download as HTML
This is a great alternative to having your project on the Cloud versus download for offline use. The HTML version (which is really HTML5; the latest iteration of HTML) preserves all the functionality you added including animations.
As a result the HTML download option is a great alternative if you want to maintain your projects interactivity which you would otherwise lose in JPG and PDF downloads and to use it offline.
When you download HTML, you are actually downloading a zip file; a standard compressed format.    Therefore after you download HTML you will need to copy the contents of your zip file to an empty folder of your choosing. Then double click the html file and you can see an html file (i.e. index or default) which you can open on any browser online or offline.