How to create a new Project
Whether you are creating content form of a Presentation, Infographic or any other form of content, the steps are very similar and done from the same console:
1
2
Click on the Create New button located on the top left of your Dashboard.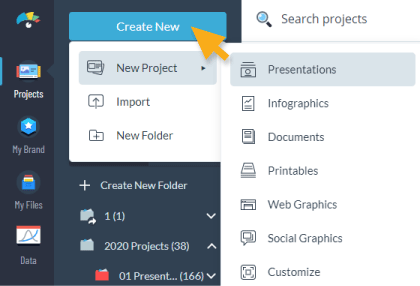 3
You will then be presented with multiple categories of content.
4
Select the Category that is best suited for your content needs,

or simply search for a content type by typing in the search field.

Tips:
– If you are a novice / beginner choose one of the categories (ex. Presentations) to choose from available templates.
– If you have very specific requirements and want to create a brand new project from a blank canvas, choose the Blank option where you can also specify the size of your project area.

Back to home
Common Questions & Answers
External Content (i-frames)
Collaboration and Team Features
Analytic Tools & Insights