Saving your Visme Projects
Visme makes it easy for you to save your projects. Your can find the Save button 0n the top-left corner of the Visme editor panel.
Visme automatically saves your project anytime a change is made (e.g. moving an object, changing a color, editing text, etc.). Please do not exit the window while your project is saving to avoid data loss.  Saving is quick and typically takes just a few seconds.

You can also turn autosave on/off by clicking on the menu icon on the top left corner of the Visme editor panel and scroll down to Autosave ON/OFF. Click ON to autosave your project or OFF to save your project manually.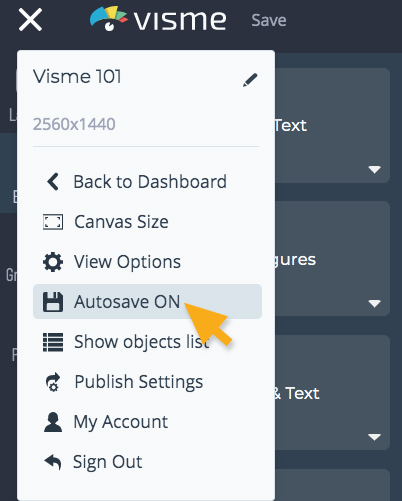 Possible Issues and Solutions:
Occasionally, the "Saving" indicator will be displayed for an extended period of time. A pop-up window may also appear to tell you that saving has stalled.
This can be related to an intermittent internet connection your internet service provider or temporary connection between your location and Visme network.
There are a couple things you can do when this happens:
Wait for the connection to resolve itself (try a few minutes later).
Check your internet connection and reset your modem.
If there is an issue with your connection, connect to Visme from a more stable network.
If none of the above work, you can refresh your browser page. Since Visme saves often, it is likely little to no changes will be lost.
Once Visme finishes saving your project, you will see the indicator below that read as Save! All Changes Saved. You may then go back to your Visme Dashboard or exit the browser window.