Using the Slide Library
The Slide Library feature in Visme allows you to create universal slides which can be used in any of your presentations. Anytime the original slide is updated, it will automatically updates in every presentation.
This is very useful when you want to create slides like pricing tables or contact information which contain general information that is used over and over again in your presentations and you do not want to keep making the same slide from scratch or having to update the same slide over and over again in all of your presentations.
Here is an example: Imagine having 15 presentations with one slide containing your business address, phone and email. This is where the Slide Library comes in handy. Instead of updating that 1 slide 15 times (every presentation), you would just need to update that 1 slide once within the Slide Library. This will saves you lot of time.
How to use Slide Library:
Saving Current Slide into Slide Library
1
From your Dashboard, select the project that contains the slide that you want to save into the Slide Library.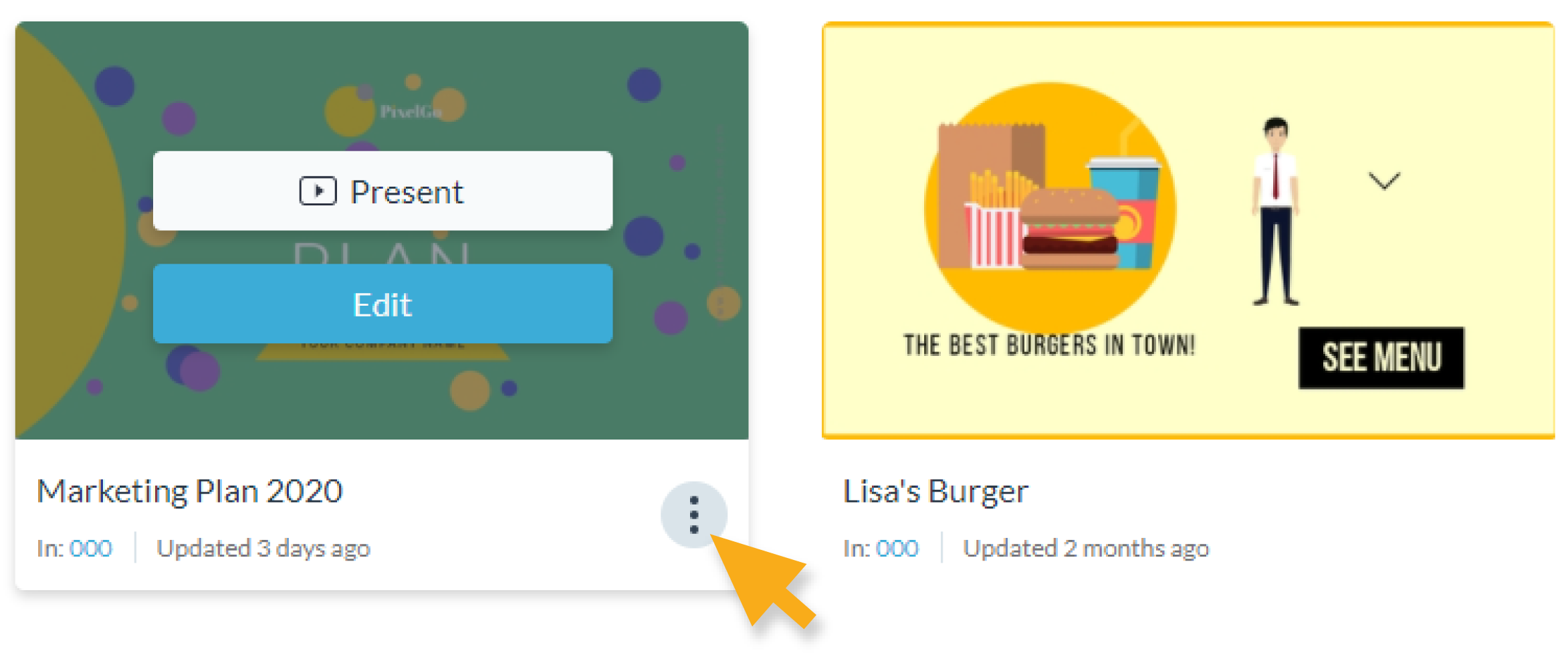 2
Once you are in the Visme Editor, hover your mouse to the gear icon on the selected slide at the right panel.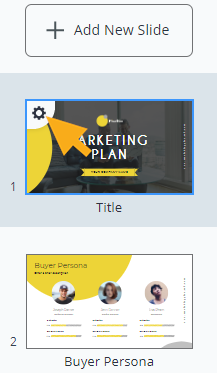 3
Now select Save to Library option in the dropdown menu. Your slide is now in the Slide Library which can be use in your other presentations.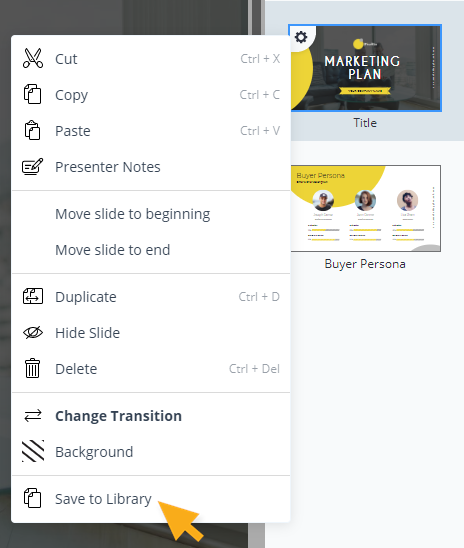 Note: Slides from the Slide Library cannot be edited in the presentation canvas. You need to access it from the Slide Library and edit it there. Note that by editing a slide from the slide library, it will automatically updates all of the slides in your presentations where the slides are being used.
---
Manually Creating a Slide in the Slide Library
1
Login into your
Visme
account. You will then get to the
Dashboard
. If you are working on a project, go to the menu on the top left and select
Back to Dashboard
option in the dropdown menu.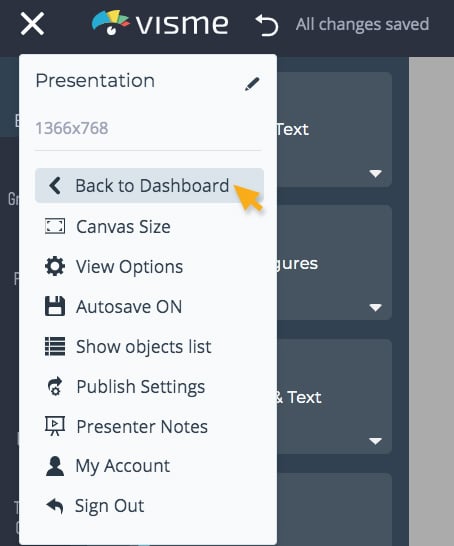 2
Click on  Slide Library located on the top left of the screen.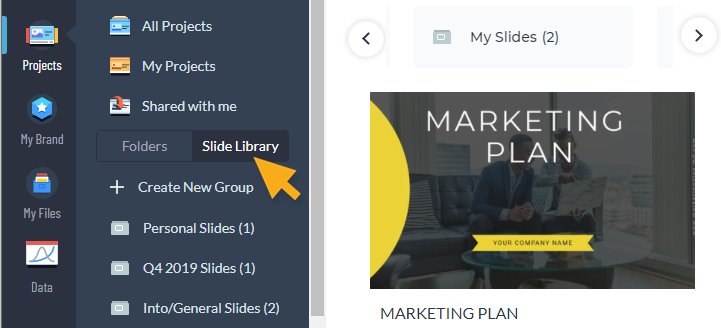 3
Click Create New within that Slide Library folder and make sure to name your slide.
Note: The process of creating a slide within Slide Library is very similar to creating a new project. In this case, you will be able to create a single slide.
The size of the new slide should be the same as the the presentation you want to place it in. For example, if your presentations are 1366 X 768 (which is default size for High Definition presentations and the size of all Visme presentation templates),  you would want to make sure your Slide is the same size. Otherwise, when you publish your slide, you might face rendering issues.
4
If you need to change the size of your slide, you can do it when you are editing your slide via the area shown below. Click on the Menu icon on the top left of the screen and select Canvas Size in the dropdown menu.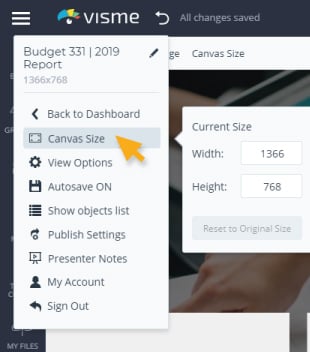 5
Once you are done creating your slide, click Apply on the top right of the screen.

6
Now go back to your Dashboard and open any project you want to apply the slide to. Open Slides on the right panel and click +Add Slide and a window will pop up.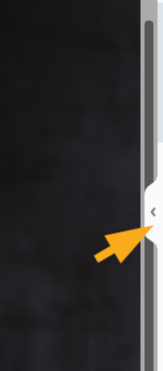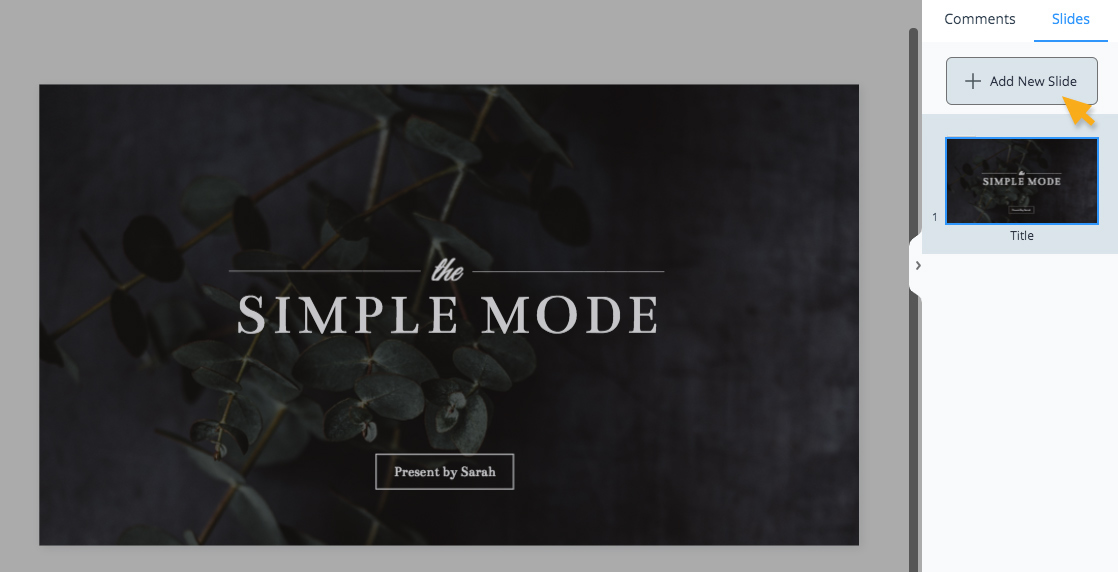 7
Click on My Library tab. You will now see the slide you have just created. Add the slide to your project by clicking on it or click-and-drag over to the Slide Manager panel.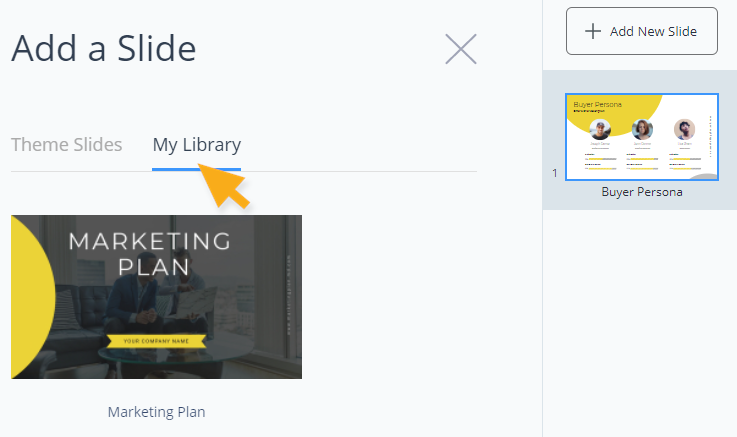 8
If you ever need to make changes on your slide, go back to your
Slide Library
. Open the slide and update it. You then click 
Share
 on the top right of your screen and your slide will automatically update it in any presentation which it is used. It will automatically apply to your Shared Online presentations. If you need to
download
a recent copy of your project for offline use, you will need to download your project.
Remember, you cannot edit the slide from the presentation. You will need to go back to the Slide Library folder in Dashboard and edit from there.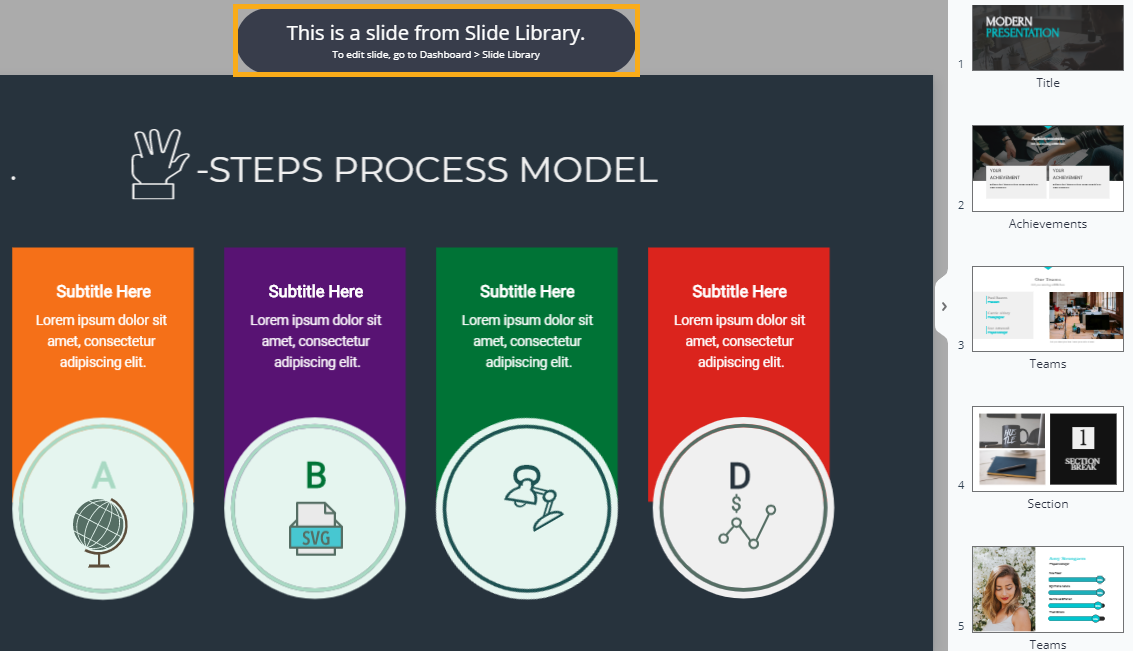 Now, you have a universal slide which can be added to any of your presentations!
Tips: 1) 
You can create multiple slides within your
Slide Library
and use them as needed.
2)
You can also use same slide in different projects. Click
here
to learn more.