Where can I view my Payment History and Receipts?
If you have a premium account, you can access your payment history and view and/or download your payment receipts via the steps below:
1
2
After login, click on your name at the top right of the screen. Scroll down and click Account Settings.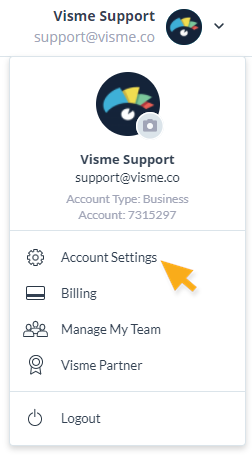 3
Under the Visme Account Details, click on Payment History.

4
You can filter by date to locate all transactions during that period. You can also view and download receipts associated with each transaction via the View/Download link.


Back to home
Common Questions & Answers
External Content (i-frames)
Collaboration and Team Features
Analytic Tools & Insights