Modify Infographic size
Even if you were to create your infographic based on a template, more than likely  you would need to resize its heigh (and sometimes its width)
That's because the height of your infographic is directly related to the amount of content and type of information you will be presenting on it.
---
How to adjust the height of your infographic
At the bottom of your project you will see a handle bar with two small arrows indicating the ability to drag up or down.   You can simply hold down your mouse and drag the bar north or south.
Depending on the direction you will be increasing or reducing the height of your infographic.
Notes:
– The height is adjusted from the bottom of infographic.
– This feature is only available for infographic templates.  You will not see this under Presentations for example.
Deep Customization: How to change both the Width and Height of your Infographic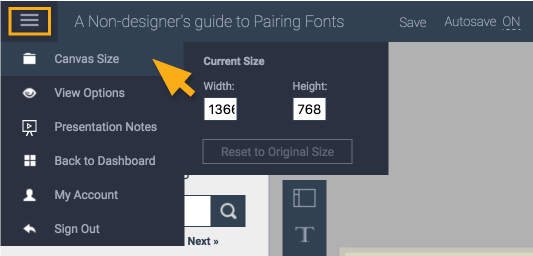 If you also need to adjust the width of your project (or if working with other forms of content beyond Presentations, then you can use the legacy Canvas size widget.
This is accessed via the top left of the panel.
These are simple tools, but they are very helpful when dealing with custom sizes. For example if you are designing to embed a project to your website or blog, you may need to size down your Visme width to fit your site's real estate.