How to Set Up Your Brand Kit
One of the major challenges that organizations of all sizes face is the lack of consistent branding across all marketing material.
We've solved this problem with our new brand kit, which allows you to establish your brand colors, fonts, logos and templates directly in our visual content tool.
This way, you can easily stay on brand across all your content, even if several users are involved in the process of creating presentations, infographics, reports, charts or social media images.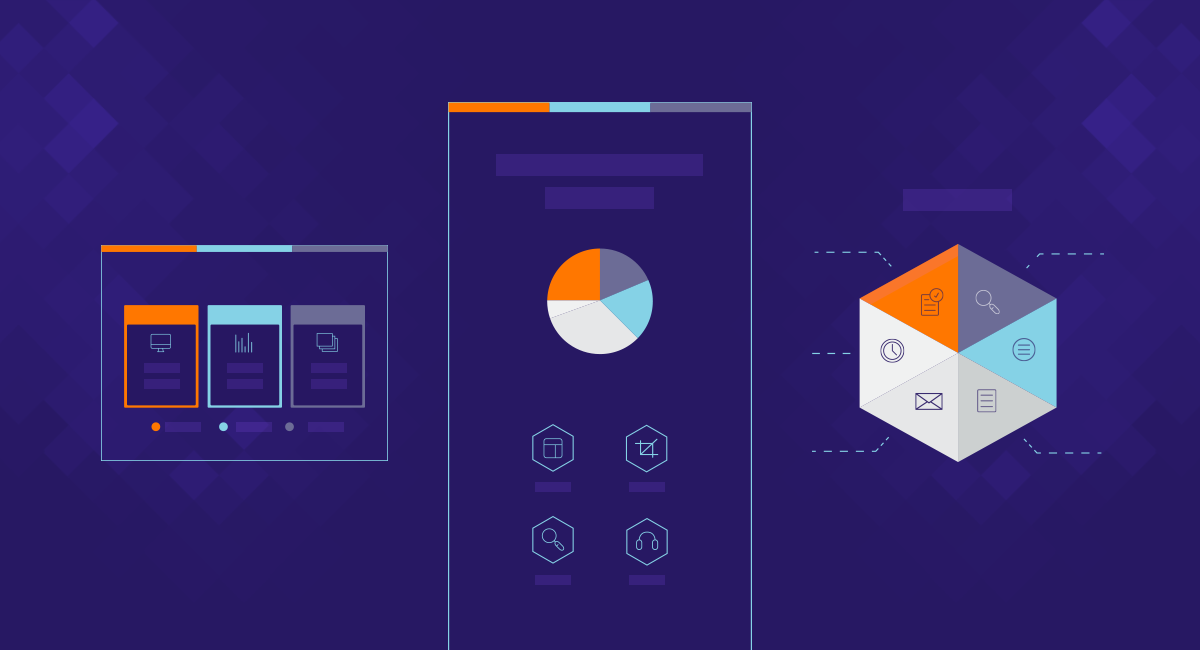 1
If your organization has already signed up for a 
Visme team plan
, you will see a new option called 
My Brand
 appear to the bottom left of your screen, which is accessible only to the administrator or designer in charge of setting up your brand kit.
2
The first step to setting up your brand kit is choosing your fonts. Visme has over 120 fonts in its library, but you may also upload your own.
For example, you can upload two brand fonts such as Roboto and Montserrat in TTF, OTF, or WOFF file formats. All you have to do is drag and drop them onto the Upload Your Own Fonts section or click the option to select the files from your computer.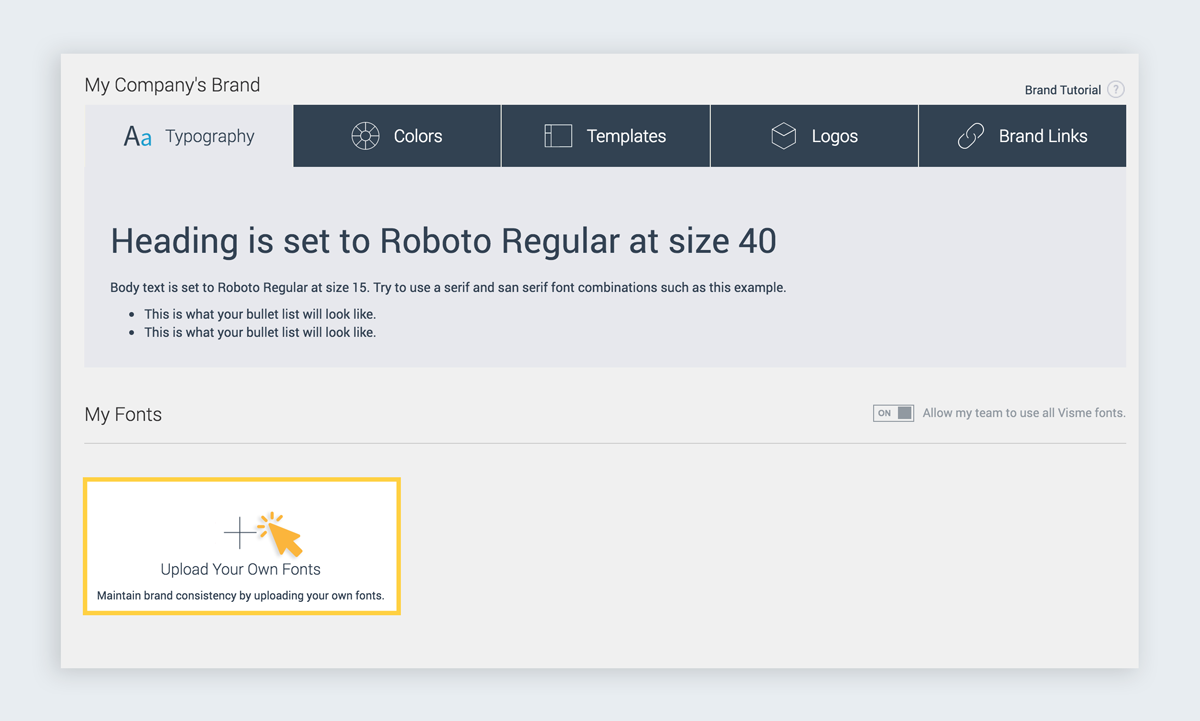 Next, you can designate a certain font as a header or body font by clicking either the Set as Header or Set as Body options. Once you've selected one of these two options, you'll see a preview of the font appear.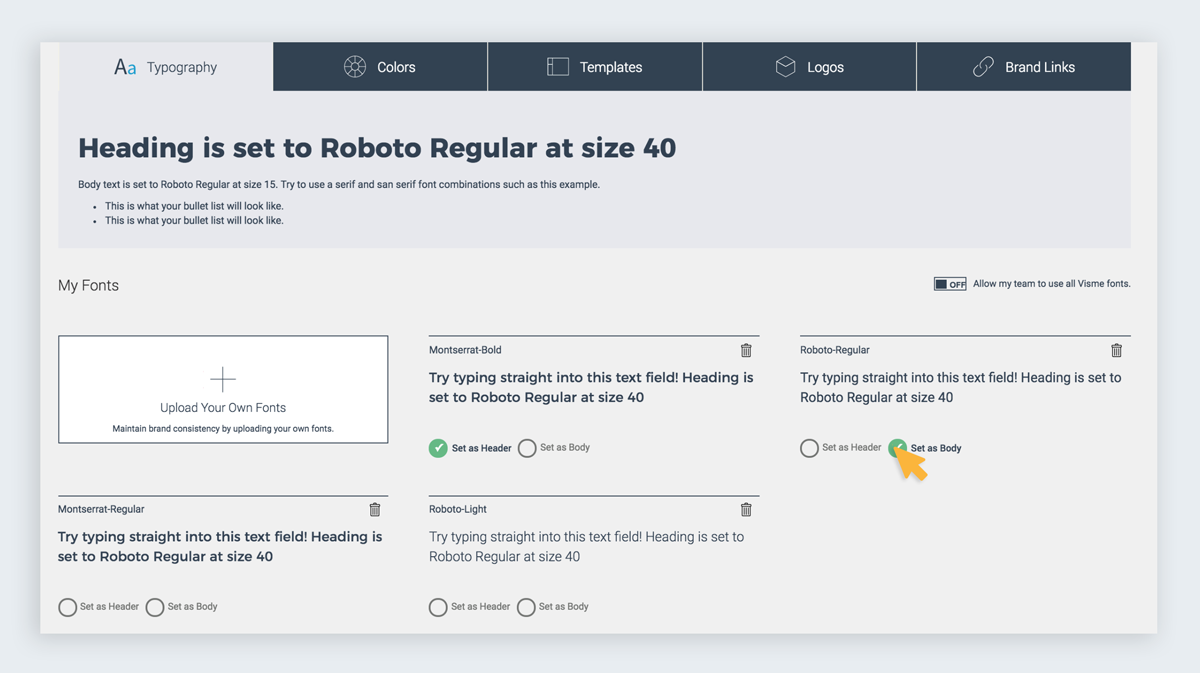 Tip: These designations will allow you or anyone else on your team to easily and quickly create content with only your pre-defined brand fonts.
3
Set permissions for brand fonts. If you want certain members to use only your brand fonts and no other option found within the Visme font library, then you can turn off the option Allow my team to use all Visme fonts.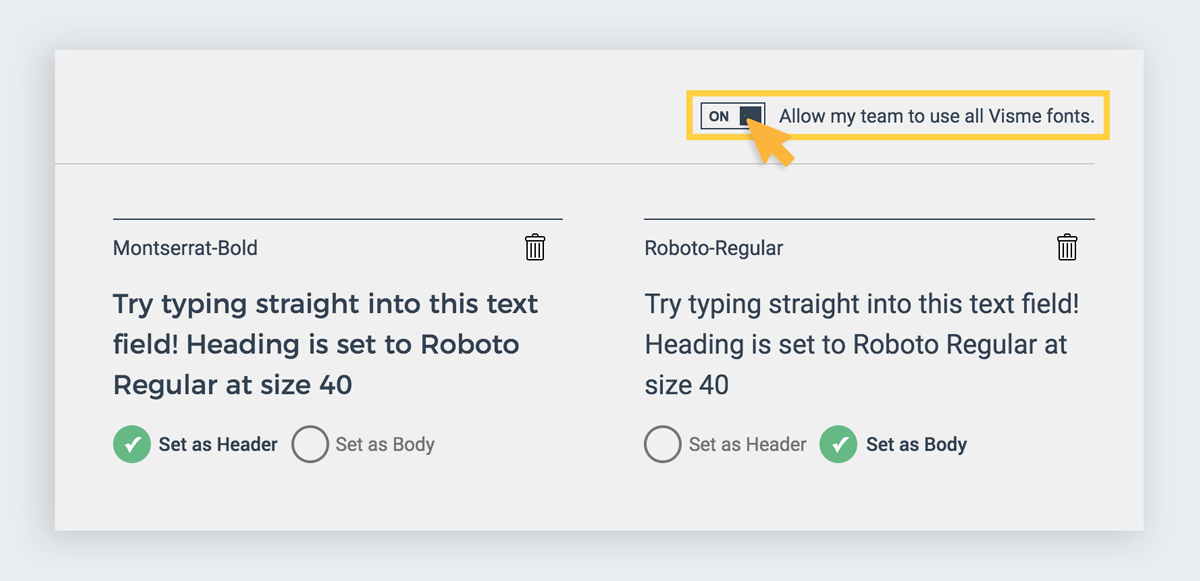 4
Establish your brand colors by clicking on the 
Colors
 tab. To create a new color palette, simply copy and paste the 
hex value
 of your colors (you can insert up to six) into the pop-up seen above.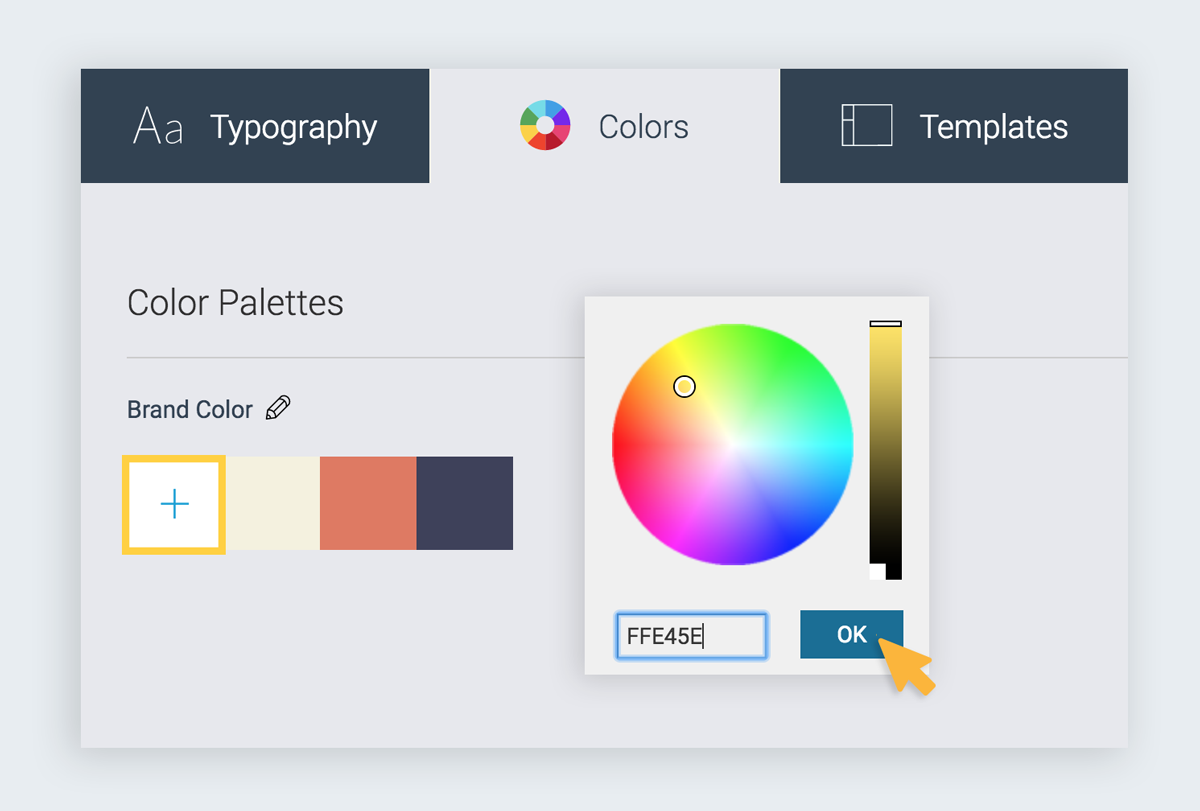 Then, you can set permissions so that your team members are not able to apply colors outside of your default color palette. To do this, simply turn the option Allow my team to select their own colors off.

5
Choose a default background color.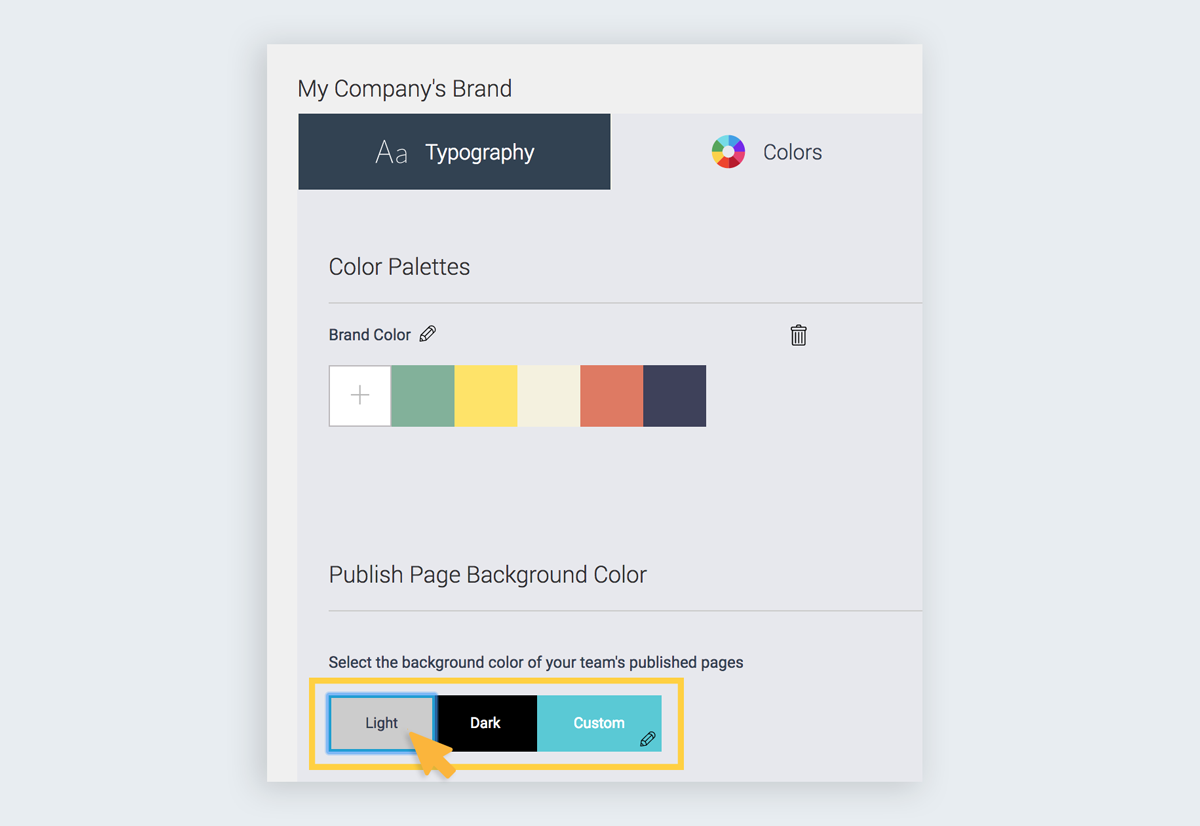 Tip: Whenever you publish Visme content online, you'll see a default background color appear on all your presentations, charts and infographics. With the brand kit feature, you can also set your background color to light, dark or apply your own custom colors.
6
If you have an existing project you want to use as a brand template, simply click on the Templates tab and then type in a keyword from your project's title. Once you've found the desired project, you can click on the Add button to designate it as a template.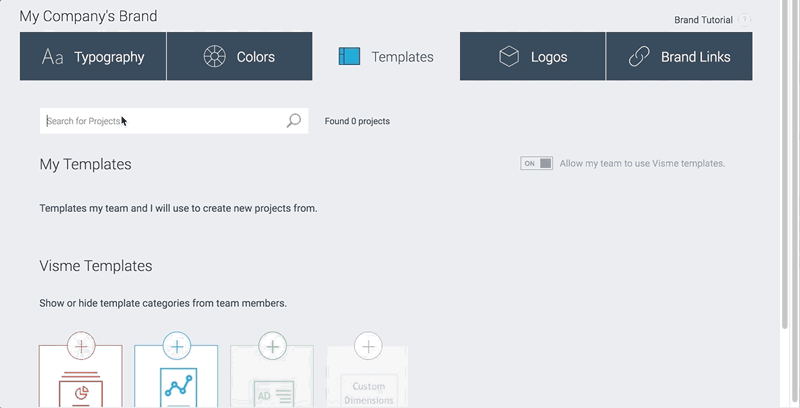 7
To restrict my team to creating only a certain type of content. With brand kit feature, you can set permissions so that your team members can only create, for instance, social media images.
To do that, simply click on the Templates tab, scroll to the bottom of your screen and deactivate a certain content option by clicking on the On button.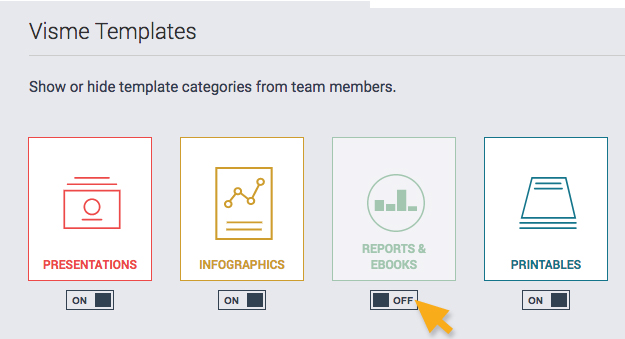 8
Upload your logos.To do that, simply click on the 
Logos
 tab and drag and drop your file (which can be a GIF, JPEG, or transparent PNG) onto the 
Add Your Logo
 section.
Then, you can decide if you want your logo to appear centered, left- or right-justified at the top of your page. And the next time someone visits or publishes a project, the latest branding settings will automatically be reflected in how your content is displayed.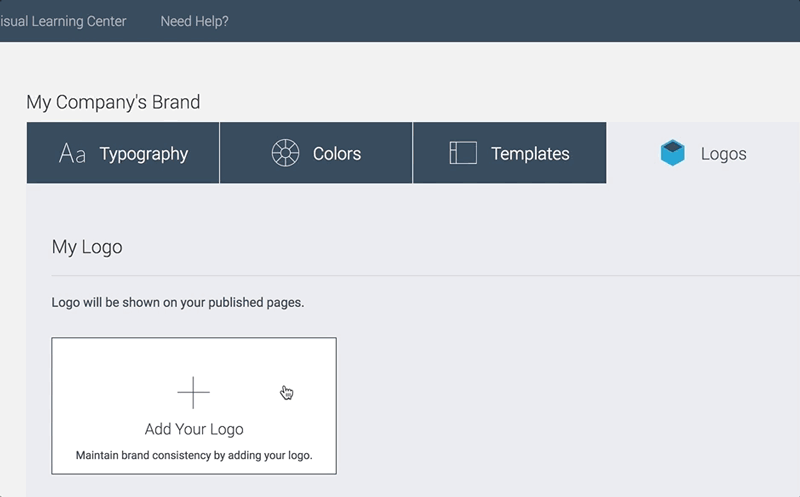 9
Instead of having to insert links to your social media profiles and website each and every time you create a piece of content, you can establish brand links.
To do this, simply click on the Brand Links tab and insert the URL to your website and each of your different social media profiles.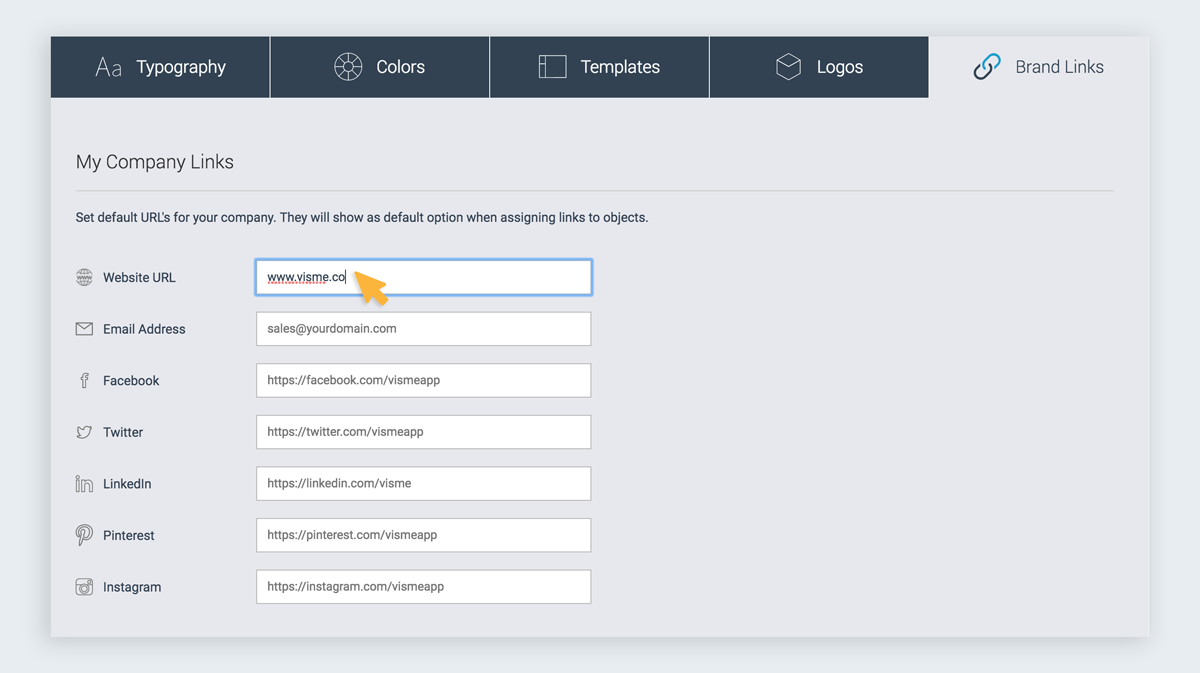 Tip: when you want to insert a call-to-action button at the end of an infographic or slide deck, you can insert a textbox, apply a color to the background and then link it to your website by clicking on the Link icon to the top right of your screen and simply choosing from one of the default link options.
---
Watch Video: How to Set Up Your Brand Identity Kit in Visme