Share and set permissions to projects or folders
Visme allows you to share content with other users (available under Visme Team plans) and also set permissions to those projects or folders.  For example an organization may be composed of 2 or more users or groups of users (or a combination of both) and using Visme all users can collaborate as a team and share content depending on permissions set by administrator(s).
In short Visme for Teams allows you to share one or more projects (or folders) with other users in your Team. The Administrator can allow them to view and/or edit the project.
Use cases for Sharing Projects:
– Create a project that serves as a template so other users can use it and create new content from it (by duplicating it to use as template)
– Start a project (ex. a Presentation or Infographic) and let another user take over and finish it for you and/or make adjustments.
How to share a project or folder:
You can share projects individually or you can organize projects into a folder and share folder(s) and its contents with other users in your team.
1
From the Dashboard, hover over any project you want to share and click on the hamburger icon from the bottom left of the presentation or infographic you've created.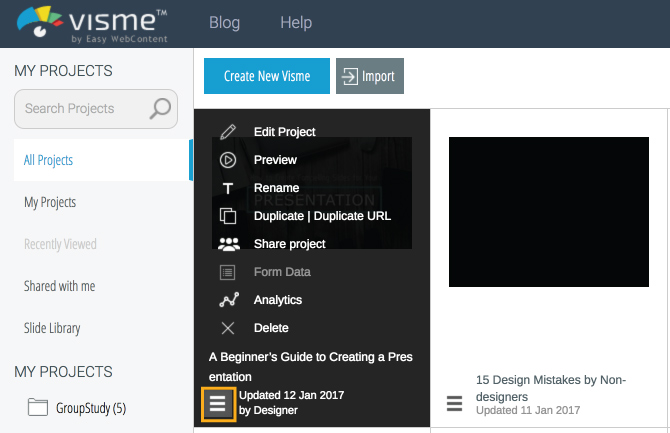 2
Select Share Project to prompt open the sharing option.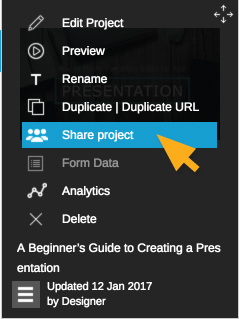 Or if you want to share an entire folder. Under My Projects, select a folder that you created, then click Share.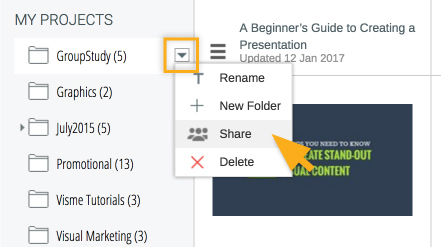 3
You have two options for sharing 
Only Me
 (which is the default option) and 
Share
with the following groups and/or people.
To share with others, select Share with the following groups and/or users, and click on the + button on the right to open the list of groups and users present.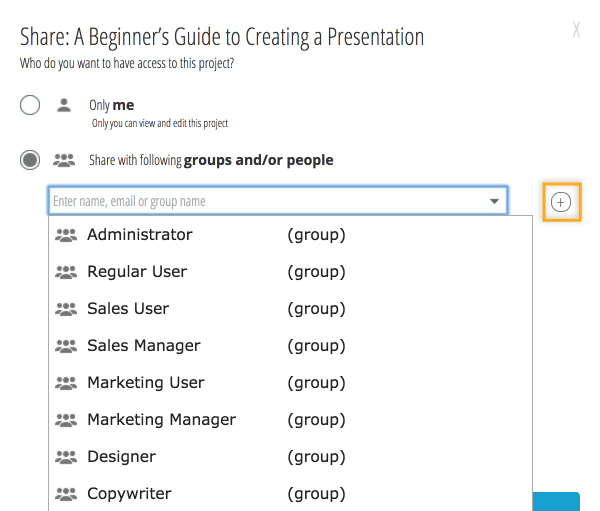 Tip: You can scroll down the list to select the Group or scroll further down to see the list of your users. (You will need at least 2 or more users to be able to share with others).
4
There are two options you can set, can edit and can view. The can edit designation means the user (or Group) can edit the project(s) you have assigned to them. The can view designation means the user (or Group) can only view the project from their login area but they cannot edit the project.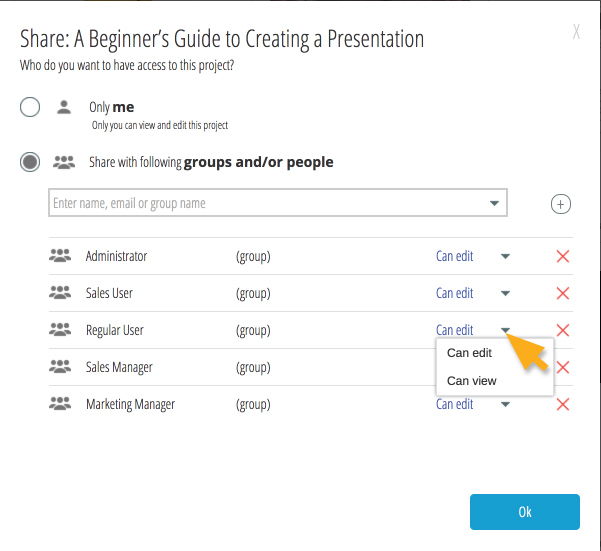 5
Select the Group or user you want to add also edit the permission. In this case we've set Regular User to can view, therefore the user cannot edit or change something on the presentation that is shared but can view it.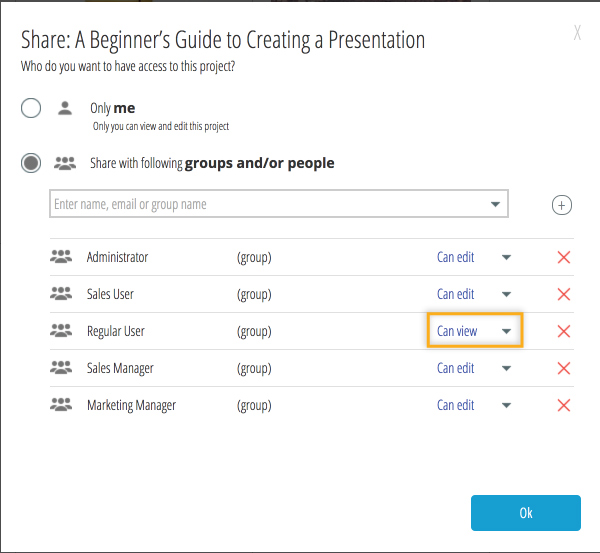 6
Once you are satisfied with the settings, click Ok to apply your sharing options. This will now allow your project / folder) to be shared with specific group(s) and/or users the next time they login to their account.
Helpful Tips:
To learn more about Team plans and what it can do for your organization, click here.
Want to add more users to work as a team?  You can add more users by logging in and going to My Account > Manager Users and look for option to add more users.